Description
Paige & Paxton STEM events are simply the best STEM experiences for kids, 3-7 years old. Period. Super fun and intentionally crafted, kids explore STEM concepts through the adorable puzzle piece characters in the Paige & Paxton storybook series and then engage in intellectually sound, hands-on experiments that mirror the work of scientists and engineers.
Admission Includes:
A copy of Paige & Paxton Discover a Small World signed by the authors
A hands-on microbiology experiment for your little learner led by real scientists.
The kit includes materials to continue the learning at home.
Parent workshop with practical tips on nurturing your child's future success in STEM (science, technology, engineering, and mathematics).
Turn your little learner into a mini microbiologist.
Your child will delve into the fascinating world of microorganisms through Paige & Paxton's latest STEM storybook, Paige & Paxton Discover a Small World, and a hands-on microbiology experiment led by real scientists.
Bacteria is a great way for young children to explore microbiology because they've no doubt experienced the effects of these pesky germs through an ear infection or a sore throat. Just like real microbiologists, your child will collect a sample in a Petri dish and then observe the growth of bacteria colonies first-hand. In the process, they'll learn a powerful lesson: the importance of simple hygiene rituals like washing our hands.
Event Schedule
9:30 am Check-In
10:00 am Welcome, Book Reading and Book Signing
10:30 am Kids - Microbiology Experiment: Itsy Bitsy Science
Your child will delve into the fascinating world of microorganisms and begin to discover the big impact these tiny, tiny creatures have on the world around us.
10:30 am Parent Workshop
Helpful tips for parents on how to continuously engage in their early learners in STEM.
12:00 pm Wrap Up & Check Out
Meet the Mother-Daughter Authors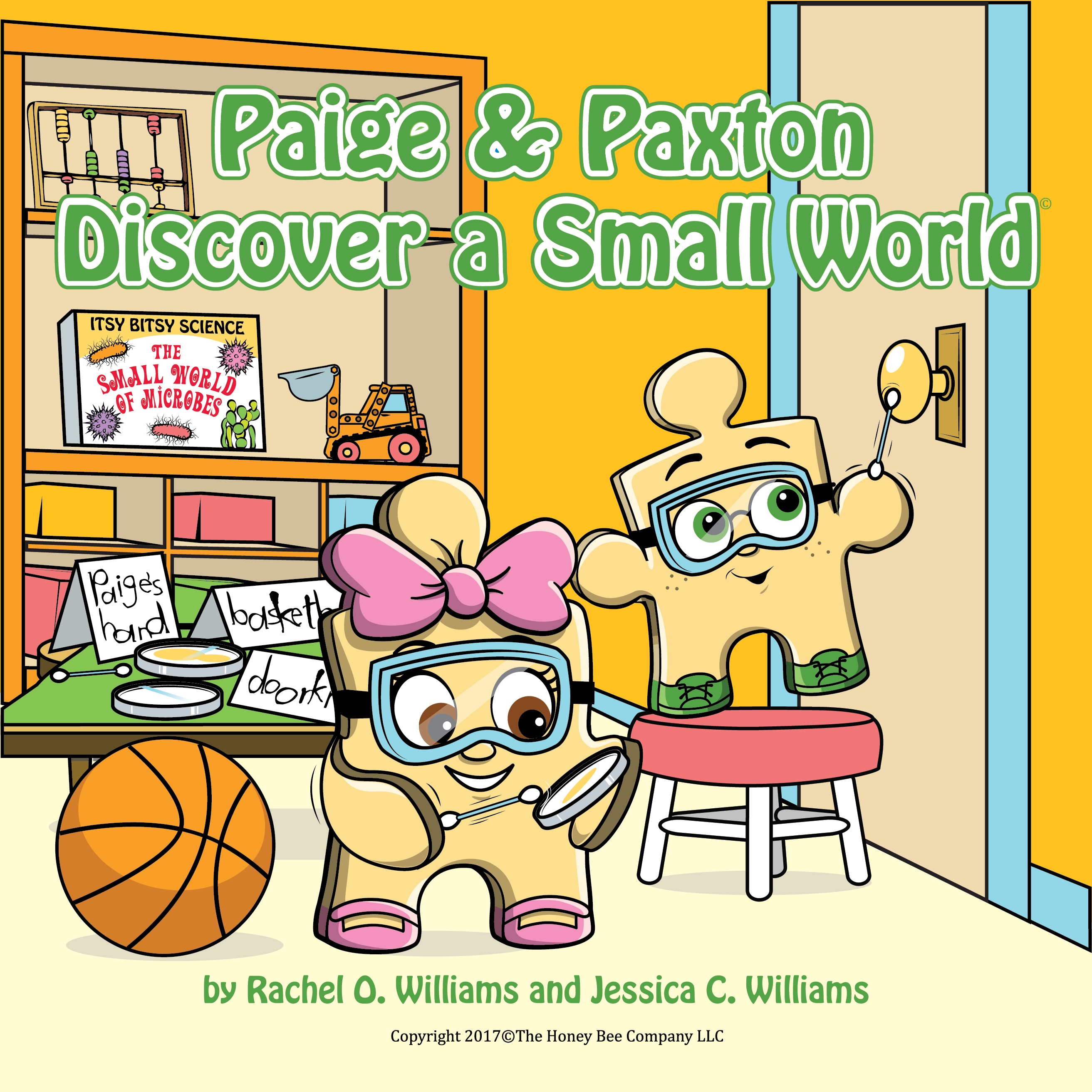 Rachel O. Williams, Co-Founder, COO, and Chief Mom Paige & Paxton
Rachel Williams is a mother of two millennials, an entrepreneur, a marketing communications expert and a fitness fanatic. She was the "alpha" tester of the Paige & Paxton approach over 20 years ago when she wanted to ensure that her daughters were passionate about and proficient in math and science. She devised an innovative way to make some of the complicated STEM concepts more interesting. While she didn't have a STEM background, she was an award-winning marketing communications professional who had more than 20 years of experience in successfully communicating complex ideas to general audiences. She leveraged this skillset as a communicator, journalist, and educator by using two puzzle piece characters to introduce STEM concepts and make STEM more fun and engaging to her two young daughters. Twenty years later, both daughters were excelling in science and math-related fields and actively involved in STEM pipelining programs for youth. They convinced their mom to bring the puzzle piece characters back to life in the form of an early elementary STEM curriculum. Since then, the trio has been on a mission to change the course of our nation by making STEM simple for elementary schools and teachers to implement. Rachel has a Bachelor of Journalism and a Bachelor of Arts in Spanish from the University of Missouri-Columbia.
Jessica C. Williams, UIC Doctor of Dental Medicine in Dentistry (2018) and Bachelor of Science in Biology with a Chemistry Minor
Jessica is a fourth-year dental student at the University of Illinois-Chicago College of Dentistry, Jessica was the inspiration for the Paige character in the Paige & Paxton book series. She graduated summa cum laude from Howard University with a B.S. in Biology and Chemistry minor and brings both a passion for science and a passion for sharing knowledge with others. As a result, Jessica volunteers in community dental clinics across the Chicago area and is a published author and editor for the Paige & Paxton book series. Jessica actively seeks out experiences and venues in which she can educate children and adults about the importance of oral health and its connection to overall health. Jessica worked as an advocate for Oral Health America to drive policy solutions to improve dental health care with underserved populations and has lead educational oral health programs as an esteemed Albert Schweitzer Fellow. Her passion for dentistry and public health has led her to immerse herself in the field, developing an intimate understanding of what the profession demands and what the profession can be in the future.
Meet the Microbiology Experiment Leads
Kassandra Davis, Bachelors in Biological and Biomedical Sciences and Masters of Science in Law
"Never turn down an opportunity to gain experience, you never know when you're going to need it."Kassandra Davis was born and raised in Chicago, Il and partially in Port Charlotte, Florida. Kassandra attended Tennessee State University where she received a Bachelors in Biological Science and a Spanish minor; and she recently attended Northwestern University Pritzker School of Law, where she received a Masters of Science in Law. Kassandra has conducted research at the Chicago Botanic Garden, and she has served as a Genetics Sequencing Research Technician at the University of Chicago. With such an extensive background, she has found excitement, and fulfillment in educating children in STEM subjects and is pleased, and honored to assist in teaching, and training the future scientist of this generation. In her spare time, Kassandra travels, sings, and loves spending time with her family.
Anthony Williams, Ph.D. Postdoctoral Scholar at University of Chicago Medicine Chief Scientific Officer at Circulogix, Inc
Dr. Anthony Williams was born and raised in the West Englewood Community on the South Side of Chicago.
From there, he attended Occidental College in Los Angeles CA, where he was a standout athlete on the Men's
Baseball Team and high scholastic achiever, receiving a BA in Kinesiology/Pre-Medical Studies. Later, Dr.
Williams received a Ph.D. in Cancer Biology from the University of Miami-Miller School of Medicine. His thesis
work focused on the development of micro- and nanoscale technologies to discover and characterize
biomarkers to detect micrometastases and therapeutic response in various cancers. Shortly following the
completion of his thesis work, Dr. Williams co-founded a startup company, Circulogix, Inc, an effort to
commercialize a novel technology he developed as a graduate student, for which he currently serves the Chief
Scientific Officer.

Currently, Dr. Williams is a Postdoctoral Scholar at the University of Chicago-Pritzker School of Medicine in the
Department of Surgery, Section of Urology. There, his studies have been focused on 1) delineating
mechanisms that drive castration-resistant prostate cancer, the lethal form of the disease, and 2) defining the
biologic factors that play a critical role in driving prostate cancer disparities among African-American men. In
this work, his primary objective is to expose key biomarkers and actionable drug targets against which novel
therapies can be developed to improve clinical patient management. Throughout his career, Dr. Williams has
co-authored over 20 book chapters, reviews and original manuscripts has received numerous accolades in
the honor of his work, including the UNCF-Merck Graduate Dissertation Fellowship, the UIC-Abraham Lincoln
Research Fellowship Award, the AACR Minority Scholar in Cancer Research Award, and is the co-owner of
several patents related to molecular diagnostic tools.
Dr. Williams maintains a strong commitment to expanding opportunities and education in STEM-related fields
for underrepresented minorities, serving as a member of the Board of Directors for The Patrick Spann
Foundation and as an Advisory Board member for Blue1647.