A literary rendez-vous around "Lance-Pierre", by Soamiely Andriamananjara
A literary rendez-vous around "Lance-Pierre", by Malagasy author, Soamiely Andriamananjara, as translated into French by Johary Ravaloson".
About this Event
Rejoignez-nous pour une conversation à bâtons rompus sur "Lance-pierre". Johary Ravaloson et Mialy Andriamananjara, l'un de Normandie et l'autre de Washington, D.C., se joindront à nous pour lire des extraits du livre et débattre des thèmes de l'auteur, ainsi que du plaisir que Johary a pris à traduire ce livre.
Nous discuterons de la littérature en langue malgache contemporaine, de la littérature malgache en langue française et du rôle de la traduction en langue française, des maisons d'édition Ranjasoa Publishing et DodoVole.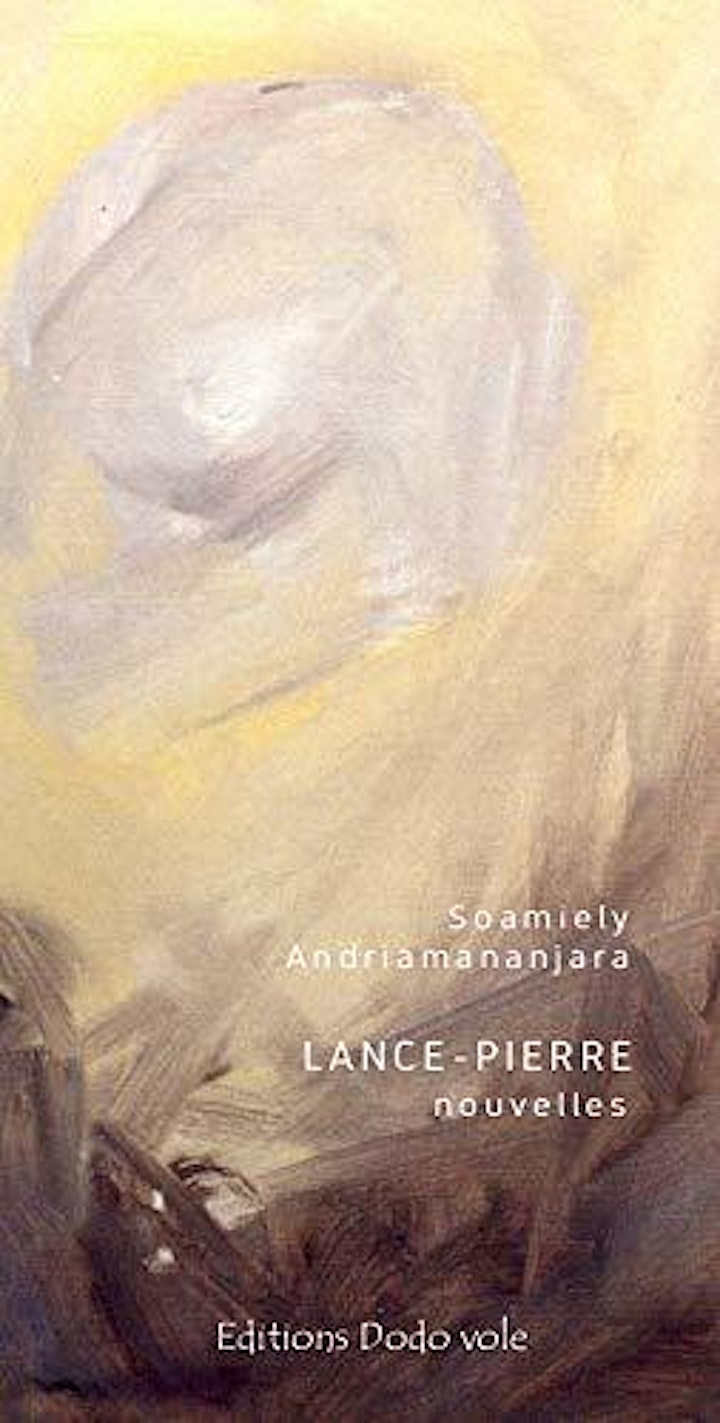 Lance-Pierre de Soamiely Andriamananjara,
Avec tendresse et humour, ce recueil de onze nouvelles (traduites du malgache par Johary Ravaloson.)nous plonge dans le quotidien des Malgaches sans cesser de nous étonner. Soamiely Andriamananjara excelle à faire saisir l'extraordinaire d'existences banales, douceur et violence s'y conjuguant en continu.
Une voix contemporaine, qui sait s'imposer en murmurant.
Soamiely Andriamananjara
Il a grandi à Madagascar et passe une grande partie de son adolescence avec les jeunes du quartier de la Haute-Ville, juché sur un mur et bercé de musique folk. Il déménage ensuite aux États-Unis pour terminer ses études. Il vit actuellement à Washington, D.C. Il a fondé avec Mialy, sa femme, la maison d'édition RanjaSoa Publishing et la revue Tsara Soratra. Économiste de profession, il écrit des nouvelles et des essais sur différents aspects de la société malgache, principalement en malgache et en anglais. Il a publié des essais et nouvelles en anglais dans des revues comme AFREADA, SableLitMag, Saraba Magazine, Island Review, Transnational Magazine, Kalahari Magazine, et Bunbury. Fidèle à sa jeunesse folk, il écrit aussi des chansons à paroles.
Lance-pierre, recueil de nouvelles traduites en français, Dodo vole, 2020
Zato, poèmes en malgache, Ranjasoa Publishing, 2018
Tantaraiko anao, nouvelles en malgache, Ranjasoa Publishing, 2017
Vakio Milamina, essais en anglais, Ranjasoa Publishing, 2016
Volana sy Vinany, poèmes en malgache, Ranjasoa Publishing, 2016
Johary RAVALOSON
Né en 1965 à Antananarivo (Madagascar), vit en Normandie (France).
Écrit des fictions.
Traduit et édite pour contribuer à la diffusion de l'art et des littératures du sud-ouest de l'océan Indien, notamment avec les Éditions Dodo vole et la revue annuelle Lettres de Lémurie.
Dernières publications :
− Antananarivo intime, recueil de nouvelles, avec les photographies de Sophie Bazin, Éditions Dodo vole, 2020.
− Amour, patrie et soupe de crabes, roman, Éditions Dodo vole, 2019.
− Vol à vif, roman, Éditions Dodo vole, 2016, prix Ivoire (Abidjan), prix du roman insulaire (Ouessant).
Dernières traductions :
− Ma promise, roman d'Emilson Daniel ANDRIAMALALA, Fofombadiko (1954), 2020.
− Lance-pierre, recueil de nouvelles de Soamiely ANDRIAMANANJARA, Tantaraiko anao (2017), 2020.
Translations into English: by Allison M. CHARETTE, charettetranslations.com
− Return To The Enchanted Island (Les larmes d'Ietsé), novel, Amazon Crossing Publisher, Seattle, Washington (USA), 2019.
− Water in the Rice Fields up to My Knees!, short story from Les nuits d'Antananarivo, Words Without Borders, October 2016, http://www.wordswithoutborders.org/article/ october-2016-ghost-stories-feature-water-in-the-rice-fields-up-to-my-knees , featured in Sunspot Jungle, vol. 1, Rosarium Publishing, Greenbelt, Maryland (USA), 2019.
− Out'n Around, short story from Les nuits d'Antananarivo, The Southern Review, Summer issue 2019, (https://thesouthernreview.org/issues/detail/Summer-2019/249/, Louisiana State University, Baton Rouge, Louisiana (USA), 2019.