Description
A Life Recycled
The Experience- Boot Camp


Marriott Hotel
3769 Rt. 46
Parsippany, NJ 07054
What's standing in the way of you living the life you were born to live? Sometimes it's simply YOU standing in your way!! There is a way to move out of your way and move forward with life.
I know you have aspirations, dreams, and goals that you want to accomplish. But you keep talking yourself in and out it. There is a reason for all of that.
I specialize in helping individuals get to the root of whats really going on.
In life, there are times when we have set backs. Sometimes those setbacks can leave us feeling unworthy. We have had to struggle through life just trying to make it, so our thought process been conditioned to think struggle, to think pain, to think adversity.
If our minds have been conditioned to think that way- it can be reconditioned with a new pattern and a new thought. It is going to require a shift in your thinking. It is going to require you to do something different, that feels different, that looks different. It is going to require you to get out of your comfort zone. Most of us live in our comfort zone because it is just that, comfortable. But anytime you want something different you are going to have to do something different.
Join me for a day that will give you a different perspective, help shift your thinking and leave you feeling empowered.
It's not a conference it's an EXPERIENCE!!
Journey with me as you discover all the piece that makes you unique. Join me at "A Life Recycled" The Experience, I promise you will be stretched, challenged and you won't leave the same.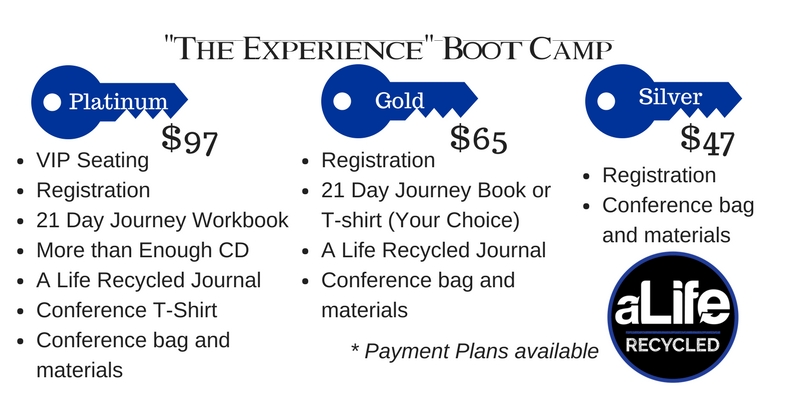 Register NOW... SPACE IS LIMITED
www.aliferecycled.com
www.towandam.com
I look forward to seeing you there!
Date and Time
Location
Refund Policy