A Legacy of Light: A Fundraiser Honoring Prof. Charles Ogletree, Jr.
Description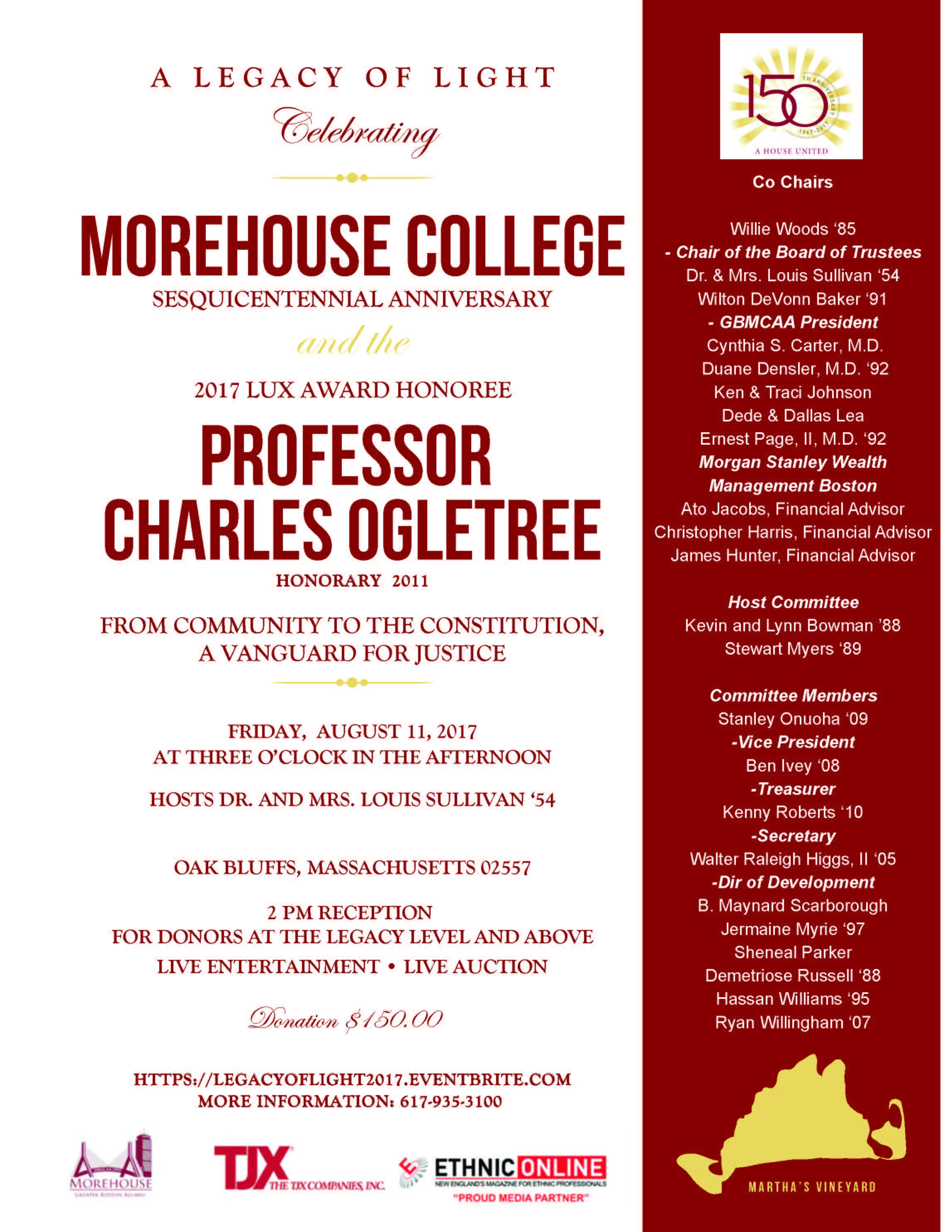 Due to the outstanding work of our committee and friends the Legacy of Light event on Friday is AT CAPACITY. In order to ensure a fabulous experience for our guests, please observe the following:
Parking is available at
Oak Bluffs Elementary School, 50 Tradewinds Rd, Oak Bluffs
A shuttle will transport from the school the Sullivan's Home (5 minute drive). Attendees should NOT go directly to the home of Dr. & Mrs. Sullivan via car or taxi. We recommend that you take a taxi or Uber to the school.
Shuttles will begin running at 1:45 PM for sponsors and invited guests of the 2 PM reception and 2:45 PM for guests of the 3 PM main event. Shuttles will run throughout the event for those who come later than 3 PM or need to leave earlier than 6 PM.
Only people on the guest list will be allowed to board the shuttles, no exceptions.
Reception at 2pm, guest include:
Committee members
Invited guests
Co Chair donors
Host Committee donors
Legacy donors
*You will not be allowed to board the shuttle for the 2 PM reception if you are not on one of these lists.
Parents of current students are required to purchase tickets, no exceptions.
Attire is Island casual or Cocktail Party (Slacks, polo. linen, sundress & etc.)

This is an outdoor event and seating is reserved for our special guests, donors & corporate partners.

The GBMCAA appreciates your thoughtfulness.
Best,
DeVonn
Wilton DeVonn Baker, President
GBMCAA
www.gbmcaa.org
--------------------------------------------------------------------------------------------------------------------------
HOUSE ON THE VINEYARD APPAREL
"House on the Vineyard" t-shirts will be on sale throughout the weekend at:
C'est La Vie
51 Circuit Ave
Oak Bluffs, MA 02557
Our beach party will take place from 12 PM - 6 PM on the Inkwell Beach.
Inkwell Beach
83 Seaview Ave
Oak Bluffs, MA 02557
We will provide the music. You will provide your own snacks and drinks. There are a number of places to buy food in downtown Oak Bluffs - http://www.mvy.com/dine-here/index.aspx. There are also a few grocery stores - https://www.yelp.com/search?find_desc=grocery+stores&find_loc=Oak+Bluffs%2C+MA.