Description
All proceeds go to the artist Beth Wood. Please feel free to bring your own adult beverages.
Direct all questions to Dana... text or call (512) 789-1221
Learn more about Beth at http://www.bethwoodmusic.com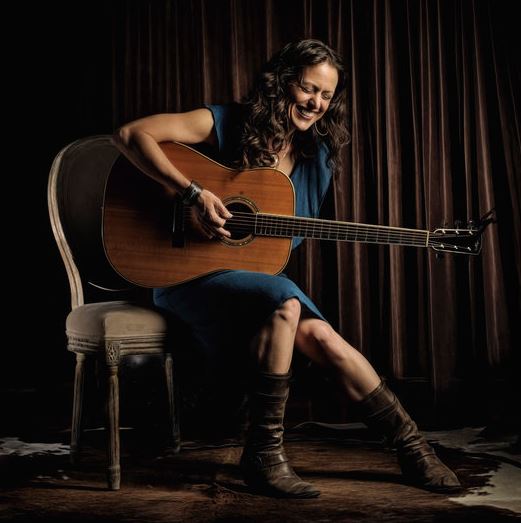 Biography
Beth Wood is a modern-day troubadour and believer in the power of song. Her exceptional musicianship, crafty songwriting, and commanding stage presence have been winning over American audiences for twenty years. Beth's music is soulful, organic, intelligent, barefoot, high-energy communication of joy.
Picture a home-body with an ever-present wanderlust, an introvert with a passion for performing, a creative free-spirit with enough discipline to rework her dream year after year, calloused little hands and a big pile of curly hair…and you've got Beth Wood.
Beth began her musical journey in Lubbock, a high plains Texas town with a uniquely rich musical heritage that includes Buddy Holly, Natalie and Lloyd Maines, Mac Davis, and Joe Ely to name a few. When she wasn't dodging tornadoes and dust storms, Beth was studying classical piano, violin, harp, and voice and contemplating the greatness of her family's record collection. With big dreams of becoming a musician, Beth left west Texas to study voice and piano at Brevard College in North Carolina. A detour from her classical studies led her to Austin, where she picked up a degree in literature and a guitar. Beth began writing her own songs and quickly discovered a feeling of musical freedom that she has been hooked on ever since. Twenty years, thousands of shows, ten albums, three cars, and numerous awards later, Beth has never looked back.
Beth has been featured on "Troubadour, TX", a nationally syndicated documentary-style singer-songwriter reality television series airing in almost 40 million households and 140 U.S. markets. Beth has also been a four-time featured artist on Cayamo, a week-long Caribbean songwriters' cruise along with Lyle Lovett, Shawn Colvin, John Prine, Patty Griffin, Emmylou Harris, Richard Thompson and many more.
Beth recently launched "20/20", a celebration of her twenty years as a full-time musician in which she will release twenty new works to subscribers and fans in 2017. In 2016, Beth expanded her repertoire and released her first book of poetry, Kazoo Symphonies(Mezaclita Press). Soon to follow was her tenth album, "Spring Tide", recorded live and solo acoustic on the Oregon coast and produced by Oregon's own rising-star producer, Tyler Fortier.
Beth lives in Portland, OR and is loving the Northwest life. Beth has immersed herself in the northwest music community, including working on staff with the Sisters Folk Festival and Americana Song Academy for six years as an instructor and host of the Sunday Community Celebration. Beth's work has expanded to include teaching voice and song coaching as well as leading workshops at festivals, retreats and beyond. Beth believes that engagement in the process of creation is as important as its outcome. Her musical philosophy is that there are no wrong notes.
"A superb singer/songwriter whose versatility discourages labeling." — Fort Worth Star-Telegram
"Beth Wood is a musical triple-threat — a thoughtful songwriter and talented multi-instrumentalist with a supple, soulful voice." — Washington Post
"Wood is about as good as it gets if you appreciate the singer/songwriter genre." –Charlotte Creative Loafing
"Lord have mercy…Wood is a down-home, old-fashioned girl with a wicked streak" — Indie-music.com
"…when you come across a recording like Beth Wood's "The Weather Inside" you take note and recognize that this is the work of a genuine artist with a remarkable voice determined to make meaningful and lasting art." –Lone Star Music Magazine
AWARDS…
Winner – Sisters Folk Festival Dave Carter Memorial Songwriting Contest
Winner – Kerrville Folk Festival New Folk Contest
Winner – 2nd Place – Rocky Mountain Folks Festival Songwriters Contest
Winner – Wildflower Festival SongwritingContest
Finalist – Telluride Troubadour Contest
Winner – Top 20 Acoustic/Folk Category – Unisong International Songwriting Contest
Honorable Mention – Mountain Stage Newsong Contest
Honorable Mention – Billboard World Song Contest
(The hosts reserve the right to refund and deny access to anyone they deem a threat to the harmony of the event)