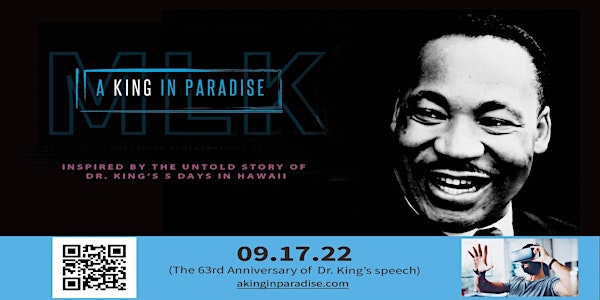 A King In Paradise: Virtual Gallery Exhibit PREVIEW
A King in Paradise Virtual Gallery Exhibit PREVIEW
About this event
On this weekend, September 17th, it is the anniversary of MLK's 1959 speech before the First Hawaiian Legislature. We are excited to preview this Virtual Gallery Exhibit inspired by Dr. King's observation about race-relations in Hawaii. The project explores the complexity of identity and highlights the impact of geography on one's sense of self. Please join me this weekend via Zoom to get a preview of the Gallery.
A KING IN PARADISE is a multidimensional project that explores the untold journey of Reverend Dr. Martin Luther King, Jr.'s five days in Hawaii during September 1959, from a multi-generational point of view.
We would love to have you join us on Saturday, September 17, 2022 at 11am HST / 2pm PST.
I can't wait to see you there!
Steven "The Prof" Cleveland, MFA
Producer of A King in Paradise Virtual Gallery Exhibit