Description

A Journey to Israel Through Spices is a unique collaboration between the queen of Middle Eastern cuisine, Einat Admony (of Balaboosta, Bar Bolonat and Taïm), and the king of spices, Lior Lev Sercarz (of La Boite Biscuits and Spice Shop and author of The Spice Companion and The Art of Blending).
See how spices can transform a dish as Chef Einat and Chef Lior take you on a journey through the many cultures that have influenced what we know as modern Israeli Cuisine: Moroccan, Sephardic, Ashkenazi, Persian, Iraqi, and more. Each and every dish will be paired with a homemade spice blend created by Chef Lior himself.
This four course dinner will teach you how to go beyond the spices you commonly know and how to look at dried ingredients with a new perspective. Everything is a spice is Chef Lior's philosophy. "Herbs, roots, bark, berries, rhizommes, and nearly any part of a plant that enhances the taste of food". This philosophy will be showcased in each of the dishes featured.

Each guest will enjoy:
specialty welcome cocktail
4 course dinner
wine pairings
a signed copy of The Spice Companion
spice blends to use at home from both Chef Einat and Chef Lior
2 Seatings Available (Limited Space): 1st seating @ 6:00pm | 2nd seating @ 8:30pm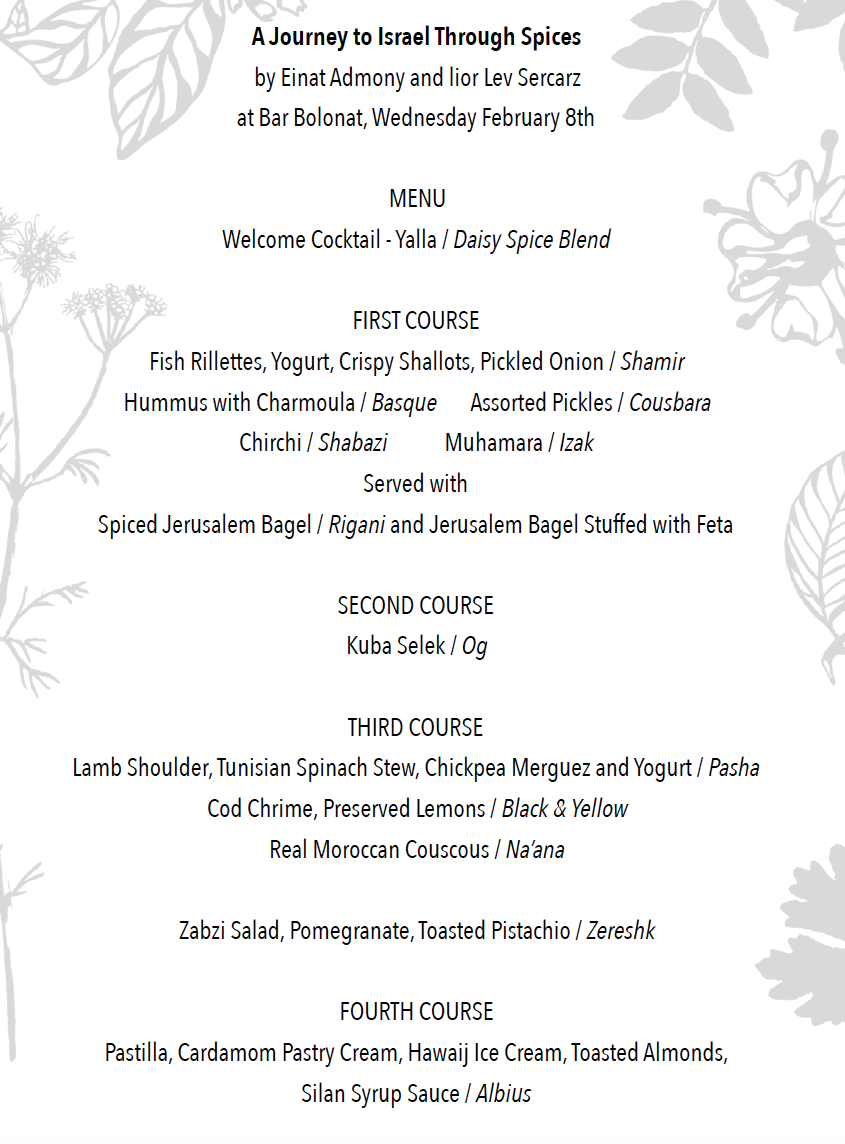 About Lior Lev Sercarz
Lior Lev Sercarz is the chef, spice blender and owner of La Boîte, a biscuits and spice shop in New York City. Lior and La Boîte have been featured in publications including The New York Times, Vogue, In Style Magazine, Every Day with Rachel Ray, Food & Wine Magazine and the SAVEUR 100.
Lior chose to travel to South America after completing his Israeli Army service, where he developed a passion for cooking and world cuisine. He then enrolled in a top culinary school in France and worked under a three Michelin star chef. In 2002, Lior decided to move to New York City where he became sous chef for Daniel Boulud's flagship restaurant, Daniel. He left in 2006 to start La Boîte, and in 2011 opened La Boîte Biscuits & Spices, an art gallery and spice shop in New York City's Hell's Kitchen.
He published his cookbook "The Art of Blending" in 2012, which featured recipes and tips from renowned chefs and culinary experts like: Gail Simmons, Daniel Boulud, Eric Ripert and Apollonia Poilâne. His second book, "The Spice Companion," came out in 2016.