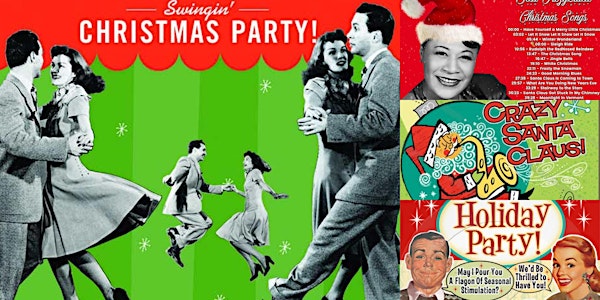 'A Jazzy, Bluesy Christmas: Artists Who Made the Holidays Swing' Webinar
Can't make it live? Register and get access to the full replay for one week! New York Adventure Club | www.AdventureClub.com
About this event
For the past 80 years, the great American jazz, big band, swing, and blues musicians have offered endless creative interpretations of the classic holiday songs — taking a good thing and making it even better. But who exactly helped traditional Christmas songs evolve into foot-stomping tracks that fill the airwaves each December? It's time to delve into how jazz and blues artists transformed the holidays as we know it.
Join New York Adventure Club as we explore the great jazz and blue artists of the 20th century who turned traditional holiday tunes on their head, and how the practice of jazzing up the holiday season has continued until this very today.
Led by award-winning author Will Friedwald, who is widely considered one of the nation's most prolific music writers, our celebration of jazzy and bluesy holiday music will include:
A review of jazz-and-blues takes on happy holiday hits that span styles and generations, from New Orleans and dixieland to swing era big bands and bebop
A discussion of inspired re-arrangements of classical melodies appropriate to the season, such as Duke Ellington's brilliant treatment of Tchaikovsky's "Nutracker Suite"
A look at Christmas-inspired originals by great artists that later became classics, including The Modern Jazz Quartet's "A Winter Tale" and Eartha Kitt's "Santa Baby"
The big-time sounds of big band holiday happenings, including "Siberian Sleighride" by the Eddie Sauter - Bill Finegan Orchestra, and "It Happened in Sun Valley" by Glenn Miller and his Orchestra
Contemporary jazz and blues artists who show how the holiday spirit can survive and thrive in the 21st century
Afterward, we'll have a Q&A with Will — any and all questions about the holiday swing sound are welcomed and encouraged!
Can't make it live? Don't worry, you'll have access to the full replay for one week!
See you there, virtually!
*Immediately upon registering, you will receive a separate, automated email containing the link to join this webinar
**For the best possible viewing experience, please ensure you're using the latest version of your internet browser — Google Chrome is the most compatible. Exact technical requirements and a webinar user guide will be shared in the automated confirmation email upon registration.
***A full replay of the experience will be available to all registered guests for up to a week
About Will
Will Friedwald is a featured arts writer for The Wall Street Journal and Vanity Fair, and the award-winning author of ten books on music and popular culture, including the new Straighten Up and Fly Right: The Life and Music of Nat King Cole, as well as A Biographical Guide To The Great Jazz And Pop Singers, Sinatra: The Song Is You, Stardust Melodies, Tony Bennett: The Good Life, Looney Tunes & Merrie Melodies, and Jazz Singing. He has written over 600 liner notes for compact discs, received ten Grammy nominations, and appears frequently on television and other documentaries. He is also a consultant and curator for Apple Music.
Testimonials
"I actually heard Christmas music I was unfamiliar with—that takes some doing! Festive and fun. Will was charming as usual!" -Bee
"More. More. More. Will. This stuff is amazing." -Nancy
"I love the clips Will finds and the history he shares." -KT
"Like everything Will does! Fun and very entertaining!" -Melinda
"Fantastic clip choices, great history, scintillating host." -Steven
Disclaimer
By attending a New York Adventure Club experience, you accept our terms of service.
Categories: Virtual, Art & Entertainment