A Variety show with 4 LIVE Denver based bands, Burlesque, Drum set Giveaway, and more! This event is both in person and live streamed!
About this Event
SEATING IS LIMITED AND ALL GOVERNMENT MANDATES ON CAPACITY and wearing masks WILL BE ENFORCED.
In person and Live streamed event! Live streamed by Shootin Dice Studios.
You do not need to be there in person to win the FULL SIZE DRUM SET! Each ticket comes with a free drawing ticket for your chance to win. If you are not planning on attending make sure you send us your email so we can email you back your "winning ticket".
If you wish to not attend you can still live stream and be entered into the drum set giveaway!
(Toy Drive) Due To Covid please only donate gift cards and monetary donations.
Date: Saturday FEB. 6, 2021
Ages: 18+ (With I.D)
- 6:00 PM DOORS | 7:00 PM SHOW-
Tickets at eventbrite.com or on facebook at:
https://www.facebook.com/events/365788857975952
****Bands Performing are:****
* SOMETHING FOR TOMORROW
* Sin On Six
* Death Ride (Colorado Springs)
* Back Stabbath
* Blacklightdawn:
When: FEB. 6TH. 2021
Where:THE VENUE (1451 CORTEZ ST, DENVER)
*****Featuring Burlesque by:*****
- The Witch Gore
- Dolly Pocket
- Heart Elise
Every ticket comes with a free drawing to win a FULL SIZE DRUM SET! You will receive your drawing ticket upon entry of the event!
A Bands 4 Bands Entertainment Production.
Check out all of our events at:
www.facebook.com/b4bentertainment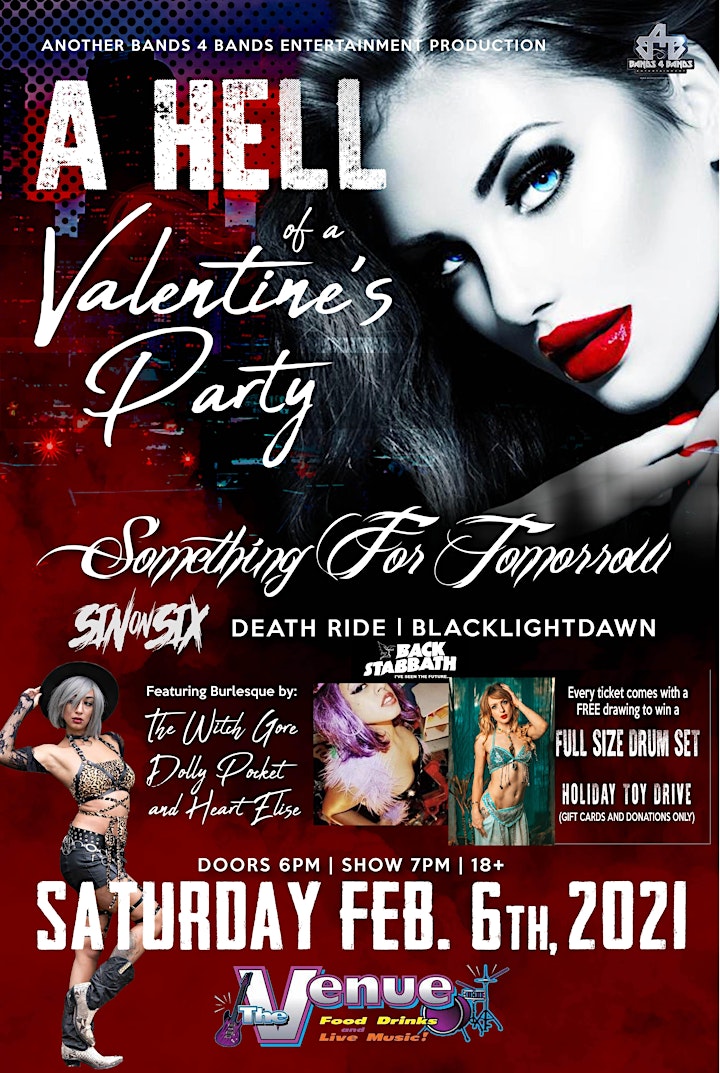 Performers
Date and Time
Location
Refund Policy