Description
The Original Lifestyle in partnership with A Foretaste of Heaven will be serving the Kencot SDA Church during their Health Emphasis Week for 2017 (September 15-September 23). During this time, we will educate, encourage and empower the Kencot community at large in the area of health. The theme will be "Healthy Lifestyle Transforms Lives." It's a 1-week, 2 weekends series.
Register online here: http://kencotsdachurch.org/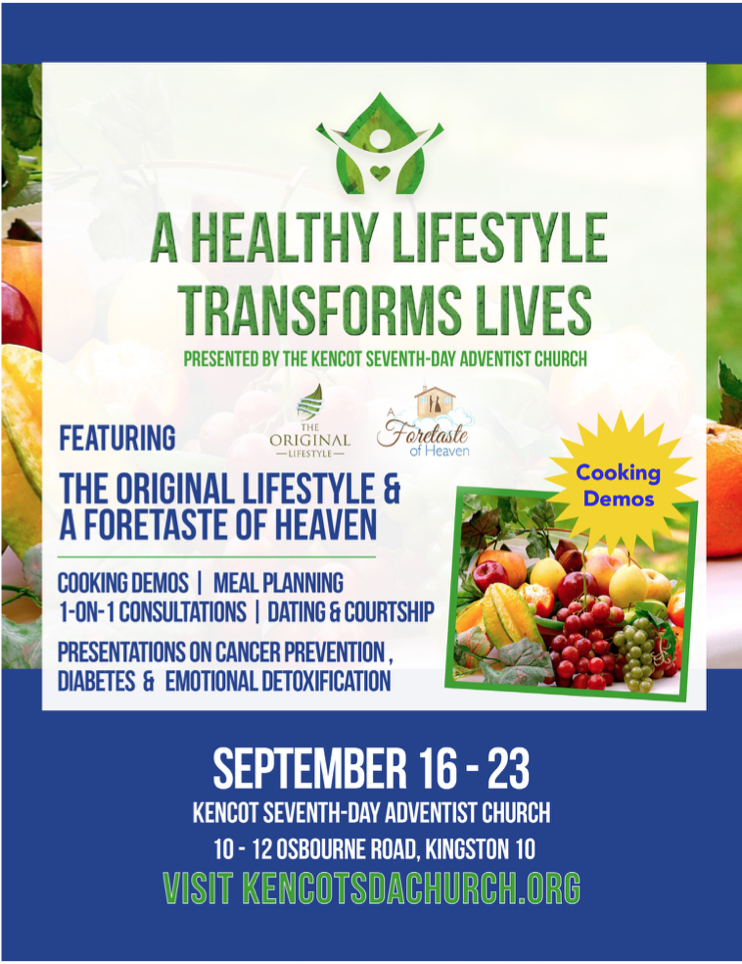 Meal Planning: topics include:
Food combinations

Eating to suit your lifestyle

Understanding digestion

Cooking Demonstrations
Dealing with Diabetes: Understanding the root causes, signs and symptoms of diabetes. This seminar will be focused on how to reverse diabetes using God's health laws and lifestyle change. This presentation will also include the topic of high cholesterol.

Defining diabetes and their causes

Using a plant-based diet to prevent, control and reverse diabetes
Cancer Prevention: Attendees will be taught how to practically prevent cancer from a scientific and spiritual aspect. We will discuss the root causes of cancer and how we can protect ourselves and families from this disease. The issue of stress and stress management will be discussed in this presentation also.
Date and Time
Location
Kencot Seventh Day Adventist Church
10 - 12 Osbourne Road, Kingston 10
Kingston, St. Andrew Parish
Jamaica