Description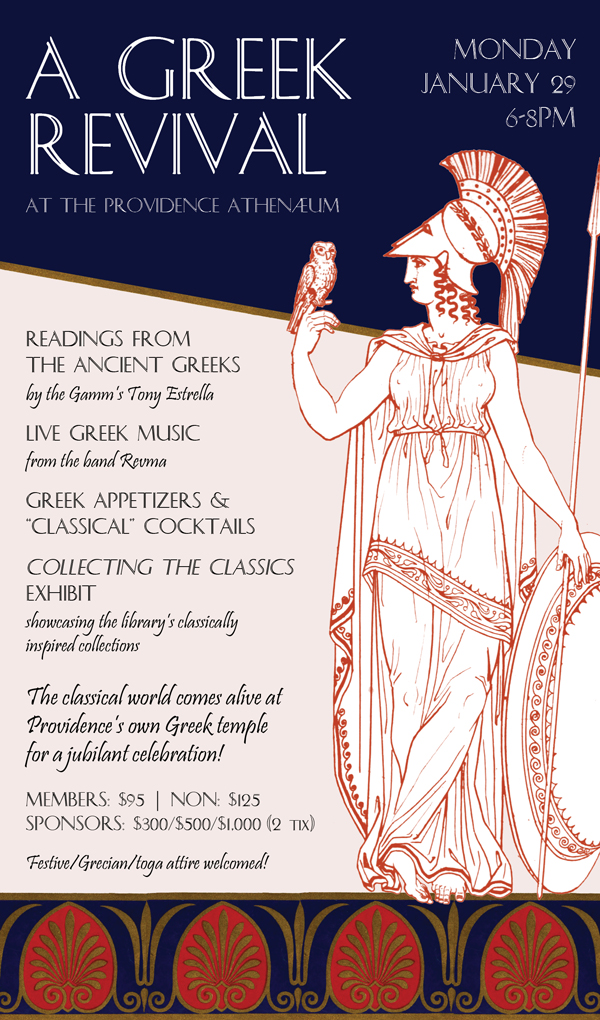 A Greek Revival has reached capacity. To be added to a waitlist, please contact Danielle Kemsley at dkemsley@provath.org or 401-421-6970 x15.
Event Chair
Cathy Lund
A loyal friend (let's call him Zeus) has helped make this event possible. We raise our goblets of ambrosia in his honor!

Olympian Sponsors
Sally & Joe Dowling
Easy Entertaining
David Ward & Abbot Stranahan

Titan Sponsors
Lucien & Kristi Agniel
Dick & Sheila Congdon
Albert & Pamela Dahlberg
Cathy Lund & Peter Karczmar/City Kitty Veterinary Care for Cats
Deming & Jane Sherman
Scott & Sally Stevenson
Yankee Travel, Inc.

Athenian Sponsors
Anonymous (2)
Harrison & Arria Bilodeau
Laura & Roy Brady
Lisa & Oliver Dow
Tripp Evans & Edward Cabral
Flowers by Semia
Jen & Michael Gazdacko
Sarah Gleason
Donna Cameron Gricus & Paul Gricus
Teresa & Peter Hacunda
Mary & Bill Hollinshead
Betty Rawls Lang & Fraser Lang
John Richard & Touba Ghadessi
Jillian Siqueland
Tom & Barbara Slaight
Linda Troia & James Hamann
Connie Worthington & Terry Tullis

---
The evening is dedicated to the memory of Sylvia Moubayed, an irrepressible spirit who orchestrated a Greek night as her first Athenæum fundraiser in 1971.
---
Help us to revive the classics at the Providence Athenæum! Following on the heels of last year's sell-out Burns Night, we're leaving wintry New England January behind to head to the always balmy Mount Olympus. The library is transforming itself for our annual winter fundraiser into an ancient Greek temple filled with music. Join us to spend an evening celebrating all things ancient in the library's Reading Room. Feel free to wear your most creative classical costumes, as a prize will be bestowed upon he or she who most vibrantly embodies the spirit of the night!
The Collecting the Classics exhibit will celebrate the classically inspired collections housed in our Greek Revival building and will include sculpture, prints, paintings, and books from the 17-19th centuries that have inspired our members for generations. Highlights include a 7' statue of Athena Lemnia, a 2nd century Greek amphora, 18th century Piranesi prints, and 19th century marble replicas from the Roman Forum.
Tickets are very limited and we expect to sell out quickly, so please act soon! If you are unable to attend, but would like to make a donation in support of the Athenæum and its programs, please click here to make a gift online.
Please contact Danielle Kemsley at 401-421-6970 x15 or dkemsley@provath.org with any questions about the event or if you would prefer to make a pledge to reserve your spots and then mail a check.