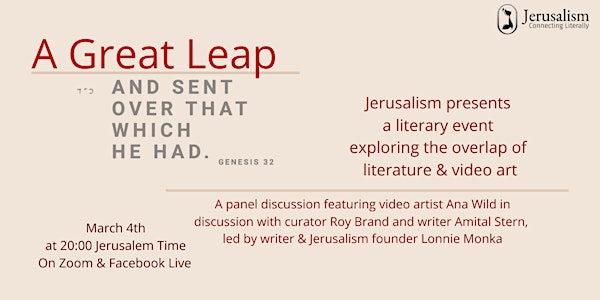 A Great Leap
Jerusalism invites you to explore the overlap of literature and video art.
Refund Policy
Contact the organizer to request a refund.
Eventbrite's fee is nonrefundable.
About this event
Organized on Zoom, this event will include a viewing of "Making a Great Leap Forward," a video art piece by Ana Wild (first presented in the Musrara Mix Festival 2020, curated by Vera Korman), followed by a stimulating conversation about the video. After showing the video, the event MC, Lonnie Monka, will moderate a panel with Amital Stern, Roy Brand, and the artist (bios available below), exchanging ideas about the role of text in video art. Then there will be an open Q&A, allowing Zoom participants to join the discussion.
To join the Zoom meeting you need to register for the event. (Those who register will receive a link to the Zoom session via email.) The event will also be broadcast live through the Jerusalism Facebook Page. For updates and links about the featured artist and panel guests, check out the Facebook Event Page.
Bios:
Ana Wild is an artist, a young girl, a graceful punk, and memorisation maven, interested in voice, speaking, words, knowledge-structures, anthropology, history, mythology, poetry, graphic design, electricity, creation ex-nihilo, musicality, learning, understanding, repetition, cyclicality, Hebrew, English, French, Arabic, translation, print, magic, adventure, friendship, agency and power. She graduated from DasArts, Amsterdam NL, and the School of Visual Theatre, Jerusalem IL; she was a fellow in Akademie Schloss Solitude between 2018-2019, and currently lives and works in Tel-Aviv. For more on Wild's work, visit her site here.
Amital Stern writes film, theater, and hybrid work in Jerusalem. Her plays have been performed at the Theatronetto Festival, the Jerusalem Fringe Festival, the Arab-Israeli Theater, abandoned buildings and more. Her work has recently appeared in Guernica, Elderly, and Best American Experimental Writing 2020. She facilitates experimental writing workshops you can learn more about here.
Roy Brand is a philosopher and curator working at the intersection of contemporary philosophy and art. He is a senior lecturer in the Master's programs of Bezalel Academy of Arts and Design, Jerusalem. He founded and directed Yaffo 23, a center for contemporary art, and he is editor and curator of numerous art exhibits, among them, The Urburb: Patterns of Contemporary Living (Israeli Pavilion of The Venice Architecture Biennial, 2014) and Bare Life (Museum on the Seam, 2007). His book LoveKnowledge: The Life of Philosophy from Socrates to Derrida was published in 2013 by Columbia University Press, New York. His book Art and the Form of Life is forthcoming by Palgrave Macmillan, New York.
Lonnie Monka is a poet, writer, and curator. He is the founder and director of Jerusalism, and currently researches the intersections of poetry, art, performance, and literature as a PhD student at Hebrew University in the department of Theater and Performance Studies. His writings and translations can be found in various online and in-print platforms.
---
Jerusalism
Jerusalism is an initiative to promote Israeli literature in English. Event info is regularly updated through the Jerusalism Facebook Page or the Jerusalism site. Jerusalism is currently fundraising to expand our online programming. Please visit the Jerusalism Patreon Page and consider contributing to our grassroots literary efforts. We have some big plans for future programing, and together we can make them happen! To receive regular updates about Jerusalism events, please join the Jerusalism mailing list.
Tickets — Voluntary Donation
The event is free, though we ask that if you have the means, please donate an amount of your choice when registering. The proceeds will go to Jerusalism to support their ongoing literary efforts.
How does it work?
This event will be held over ZOOM.
***The link for the event will be provided after registration.***
For those who successfully registered and cannot find the link, please check your filtered emails for a message from Jerusalism/Eventbrite.
Download and install ZOOM for desktop or mobile devices https://zoom.us/download
Please arrive 5-10mins in advance to ensure you're connected and ready to go.