Get your most photo worthy attire ready as we celebrate A Great Day in Newark! Choose your photogenic locations & come photoready!
About this event
... This photoshoot is reminiscent of the iconic and historical 1958 photo A Great Day in Harlem. We are celebrating community, the uniqueness of our city and the immense culture and artistry that can only be found in Newark, NJ. So choose your locations and come Back Together Again with us as we have A Great Day in Newark on Saturday, September 18th, 2021.
All are welcome!
Choose up to 3 locations for Mr, Ms, and Mx group photos plus City Hall, with the finale photo at Mulberry Commons.
Location 1: NJPAC outside (the sun will shine) - 1 Center Street
Mx (LGBTQIA+): 10am arrival (photo at 10:30am)
Ms: 10:30am arrival (photo at 11am)
Mr: 11am arrival (photo at 11:30am)
Location 2: Hahne's Building Grand Staircase - 50 Halsey Street
Mx (LGBTQIA+): 11:30am arrival (photo at 12pm)
Ms: 12pm arrival (photo at 12:30pm)
Mr: 12:30pm arrival (photo at 1pm)
Location 3: Art Wall-Fairmount Heights Switching Station - 400 Market St (if rain: TREC, 55 Ludlow St)
Mx (LGBTQIA+): 1pm arrival (photo at 1:30pm)
Ms: 1:30pm arrival (photo at 2pm)
Mr: 2pm arrival (photo at 2:30pm)
Location 4: City Hall steps (if rain: City Hall Rotunda) - 920 Broad Street
Mx (LGBTQIA+): 2:30pm arrival (photo at 3pm)
Ms: 3pm arrival (photo at 3:30pm)
Mr: 3:30pm arrival (photo at 4pm)
Location 5: Mulberry Commons (the sun will shine) - Mulberry Street
All: 4:30pm arrival (photo at 5pm)
Children, too
Food & Music: 5-7pm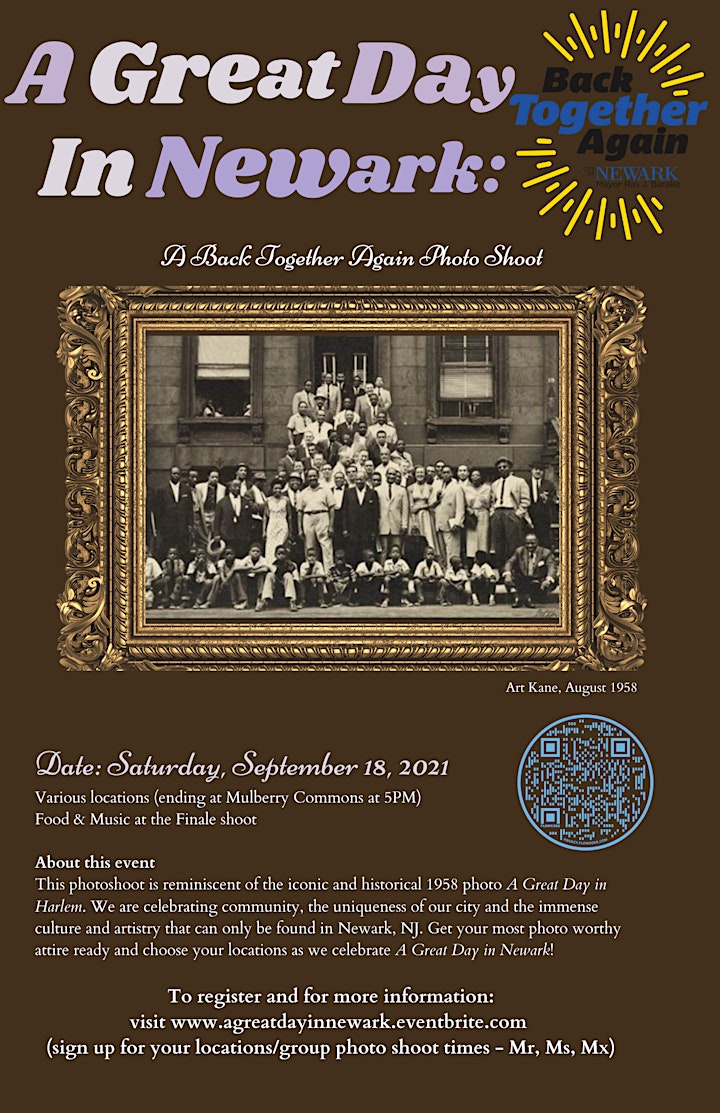 Organizer of A Great Day in Newark (Back Together Again photo shoot)