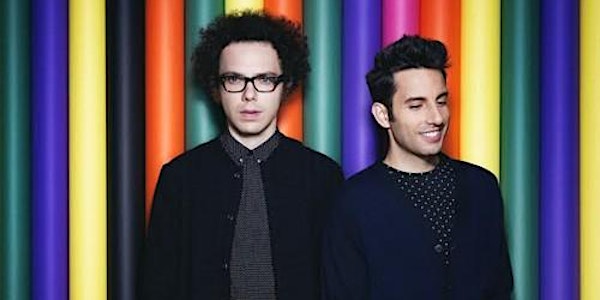 A Great Big World – Kaleidoscope Tour @ GAMH w/ Genevieve
When and where
Location
Great American Music Hall 859 O'Farrell Street San Francisco, CA 94109
Description
SHOW 8pm DOOR 7pm
VIP Upgrade available here!
*Upgrade does not include a ticket to the concert; fans must purchase a ticket to the concert in addition to the Upgrade to attend the Meet & Greet.*
The magical journey of A Great Big World – Ian Axel and Chad King – began in the music practice rooms of NYU (New York University) where the two were attending college. In 2012, after a few twists and turns of fate, the friends formed A Great Big World and released a six-song EP funded by Kickstarter. It spawned the viral sensation "Everyone Is Gay" and "This Is the New Year," which was performed by the cast on Fox's Glee.
Soon after, Black Magnetic/Epic Records offered the duo a deal, and issued "Say Something" as their first official single in 2013. Its terse, tearful piano and Axel's heavenly hypnotic vocals tugged on heartstrings, and struck a chord. After hearing it during a pivotal segment of Fox's So You Think You Can Dance, Christina Aguilera fell in love with the song. She collaborated with AGBW on a new recording of the track that they subsequently performed together on NBC's The Voice, which launched it to #1 on iTunes. More tv performances followed (The American Music Awards, The Victoria's Secret Fashion Show), culminating with the song's release on AGBW's debut album, Is There Anybody Out There? (January 2014).
"Say Something" ultimately occupied the #1 spot on iTunes, Billboard's Digital Songs, Digital Tracks, Adult Top 40, and Hot Dance Club Songs charts, as well as Spotify and Shazam, in addition to going Top 10 on sales charts in 19 countries. After turning in a riveting performance at Clive Davis' prestigious annual pre-Grammy® party in January 2014, A Great Big World toured from May through August across the U.S. and Canada, the UK, Europe, Australia, New Zealand, and Asia.
For the remainder of 2014, into 2015, A Great Big World was hard at work on new music that they were eager to present to their legions of fans across the globe. The release of "Hold Each Other" in July 2015 introduced the arrival of their second album When the Morning Comes last November. The band's newest single "Oasis" harkens back to the honest, sentimental songwriting found in "Say Something," and sets the stage for a new year full of touring.
TICKET INFORMATION
• Great American Music Hall is an ALL-AGES (6+) venue.
• No refunds or exchanges are permitted, except in the case of headliner cancellation or date change. Opening acts are subject to change.
• NEVER buy third party tickets (Craigslist, StubHub, etc.) for over face value. Scalped tickets may not be honored.
• Once you purchase, you will receive an order confirmation email from Eventbrite on behalf of Slim's Presents.
• IMPORTANT: If you do not see your order confirmation in your inbox, make sure to check your junk/spam folder. If you still do not see your order confirmation, click here to access the Eventbrite help center.
• If you are having any other technical ticketing-related issues with your order, click here to contact Eventbrite. For general show info, click here.