Description
No need to bring anything but your hunger for good food and your thirst for knowledge!
A Gluten Free Menu: $125
Seared Sea Scallops with White Wine and Shallots served with Mixed Greens Vinaigrette, Quick Stock, Hanger Steak au Poivre, Garlic-Sautéed Spinach, Warm French Lentils, Lemon Mousse with Berries.
Eating gluten-free needn't leave you feeling deprived. Eating food you've cooked from scratch is more healthy and satisfying, and gives you ultimate control. This class, open not only to gluten-free eaters, will discuss basic techniques for cooking well for yourself. In addition to our fabulous menu, we will make Quick Chicken Stock, that all-important ingredient that adds flavor and body without the horrible additives found in prepared broths and stocks. Clean cooking that you control is what good food is all about.
Monday, July 31, 6:30 to 10
There is a firm one-week cancellation policy for all classes; i.e. no refunds will be issued for no-shows and last minute cancellations. Most of our hands-on classes are limited to 6 - 8 students unless otherwise noted. Wine tastings are limited to 12.
Private Classes from 1-20 people also available. Private classes start at $275, and $75 each additional person and you choose the time (usually 3-4 hours) and the cuisine/menu. Even invite friends to come and enjoy fruits of your labor in our "One Night Stand" program!
Cooking class parties and corporate teambuilding events also available.
Call 212 673-8184 with any questions or to book your private event.
Camaje Cooking Classes are unique. They are taught in a working restaurant kitchen by a professional chef. Class starts in the Camaje dining room, where you meet the chef and your classmates to discuss the menu and how to prepare it. Then you don aprons and, under the chef's watchful eye and with her help, if needed, you prepare your ingredients. Prep finished, it's time to move to the kitchen to cook. (Remember: You are in a working restaurant kitchen—if there's a rush,stand back! Students tell us they find this exciting and instructive.) When you have finished cooking, it's time to gather around your table in the dining room for wine and tasty food cooked by you. Relax with the chef and chat with your classmates. Bon apetit!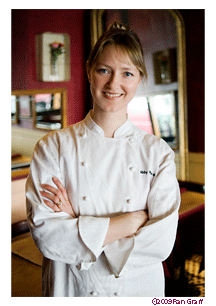 CHEF ABIGAIL HITCHCOCK