About this Event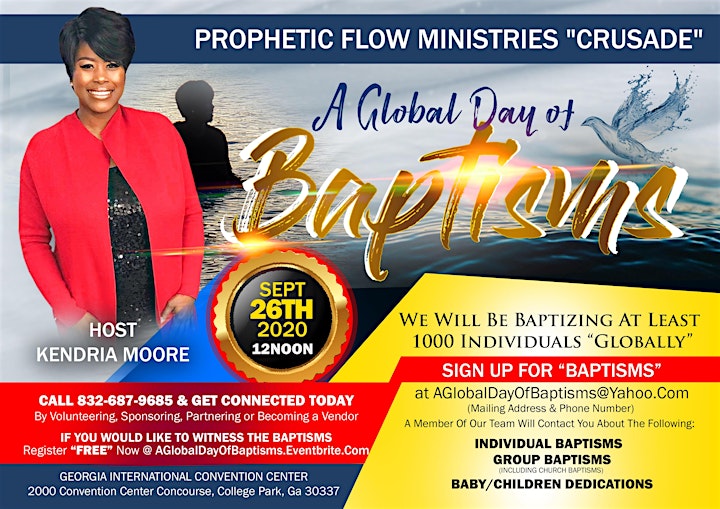 PROPHETIC FLOW MINISTRIES IS A NON-DENOMINATIONAL MINISTRY LAUNCHING IT'S FIRST CRUSADE, "A GLOBAL DAY OF BAPTISMS" HAPPENING IN ATLANTA, GEORGIA ON SEPTEMBER 26TH 2020. WE WILL BE WATER BAPTIZING AT LEAST 1000+ INDIVIDUALS "GLOBALLY." THE BAPTISMS WILL INCLUDE INDIVIDUAL BAPTISMS, GROUP BAPTISMS (INCLUDING CHURCH BAPTISMS) AND OR BABY/CHILDREN DEDICATIONS.
YOUR MONETARY & NON-PERISHABLE DONATIONS WILL HELP US BRING FORTH THIS VISION! DONATE TODAY $5, $10, $20 OR WHATEVER YOU CAN GIVE TO THIS CAUSE!
ADDITIONALLY, WE ARE IN NEED OF VOLUNTEERS, SPONSORS, PARTNERS & VENDORS.
FOR MORE INFORMATION CALL 832-687-9685 TODAY!