A Gathering of Light — Mindful exercises and a book signing

Saturday, December 8, 2018 from 2:00 PM to 3:30 PM (EST)
Event Details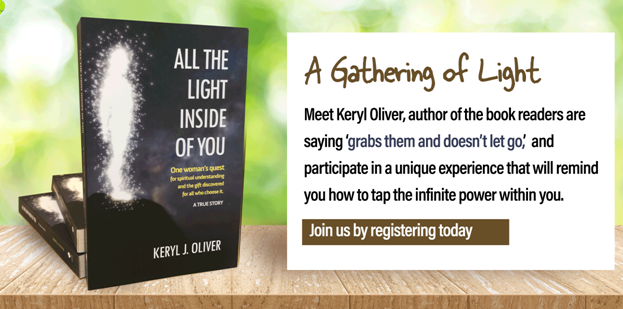 WE ARE CALLING THIS EVENT "A GATHERING OF LIGHT" — JOIN US AND SEE WHY.
ABOUT THE EVENT:
We all have an inner-voice. Yes? It's that quiet little whisper that comes from deep within. We call it a variety of things: 'intuition...hunch...spidey sense.' We say, "SOMETHING tells me I should take a left here," or "SOMEHOW I knew you were going to call," or "I should have followed my gut." Have you ever wondered? From where does that voice come and why is there so much wisdom and love when it presses on a heart?
Do you listen to that voice even when it doesn't make sense to do so?
Join us on December 8 to hear about the book that readers are saying 'grabs them and doesn't let go.' All the Light Inside of You is a story of extraordinary circumstances happening to ordinary individuals who chose to trust that voice above their own human thoughts. Author, Keryl Oliver will begin by delivering opening remarks on the background of the book, move to an excerpt reading, then lead the room in interactive, mindful exercises. A book signing will follow this event that is sure to be the perfect gift to give yourself and loved ones this Holiday.
Light hors d'oeuvres and warm beverages will be served. This event is free and open to the public. All attendees are eligible to win a signed book.
ABOUT THE BOOK:
AN UNFORGETTABLE STORY THAT REVEALS THE STRENGTH OF THE HUMAN SPIRIT
The 6-year child loved her time spent in solitude in the woods near her home. But was she really alone? She didn't believe so. There was always the sense of a loving presence watching over her, delighting in her time in nature. What was that extra something and why was there so much love when it pressed on her heart as an inner voice? 

Now an adult and prompted by the same inner-voice, she offers to help a near-stranger who is battling cancer and soon finds herself immersed in a web of dark lies and deceptions that seem more like a fictional tale than a true story.With nearly every facet of her life negatively impacted by this person, she now faces a new battle: how to not let the bitterness consume her and how to determine whether or not to trust the inner-voice that has guided her throughout her life.

All the Light Inside of You takes readers through a riveting series of events that twist and turn comprising the author's life and forcing her to draw from all she learned throughout its seasons in this story of spiritual resilience, freedom of choice, discovery, and love. Throughout the book are stories of ordinary people encountering extraordinary circumstances that remind us we are so much more than physical beings and we are never alone. 
ABOUT THE AUTHOR:
Even though Brookfield West resident Keryl Oliver describes herself as 'just an ordinary person, no different from anyone else,' she will also say 'every individual is extraordinary and unique—and that's what makes life mysteriously beautiful.' Keryl is a long-time entrepreneur, a certified personal and executive coach, member of the International Coaching Federation, member of the Atlanta Writer's Club, and was recently the 2018 Milton Literary Festival Chairperson. Keryl left her successful three-decade career in strategic development and marketing when she realized she was more passionate about helping a person effectively move from point A to point B than she was in helping an organization.
All the Light Inside of You is her first book and memoir and is touching the hearts of its readers.
When & Where

Milton Library
855 Mayfield Road
Milton, GA 30009


Saturday, December 8, 2018 from 2:00 PM to 3:30 PM (EST)
Add to my calendar
Organizer
Bookmiser East Cobb
3822 Roswell Rd.
Marietta, GA 30062