Description
A GATHERING OF KINGS 2018

This is EPIC Global Network's 3rd annual Summit to be held at the Wyndam Resort, Disney Springs, Orlando, Florida January 3-6, 2018. Our theme this year is "GIVE ME THIS MOUNTAIN" from Joshua 14:12 when Caleb says to Joshua that he's ready to go take his mountain that the Lord had promised him. Are you ready to go influence and scale the mountain God has in your destiny? God has made us "kings and priests." This EPIC Summit will have a strong focus on the 7 Mountain Mandate. Please mark the dates on your calendars. The Summit is open to everyone, not just only EPIC leaders.
Confirmed speakers are Dr. Mark Chironna, Rapper Dee-1, Dr. Yvonne Capehart, Apostle Melvin Thompson lll, Dr. Yolanda Powell, Apostle Emmanuel Allen, Apostle Jeremy Gibson, Apostle Johnny Gentry lll, and of course, I will be hosting and speaking. Prophet Niles Bess will be leading the worship team in both day and evening sessions. Apostle Brian & Prophetess Jessica Valley and Redemtion Church are our EPIC Orlando hosts. Please see contact and hotel info below. See you at The Summit!!
Apostle Axel Sippach, EPIC Visionary & Founder
EPIC Contact Bumber: (360) 830-0313
Email: epicglobalnetwork@gmail.com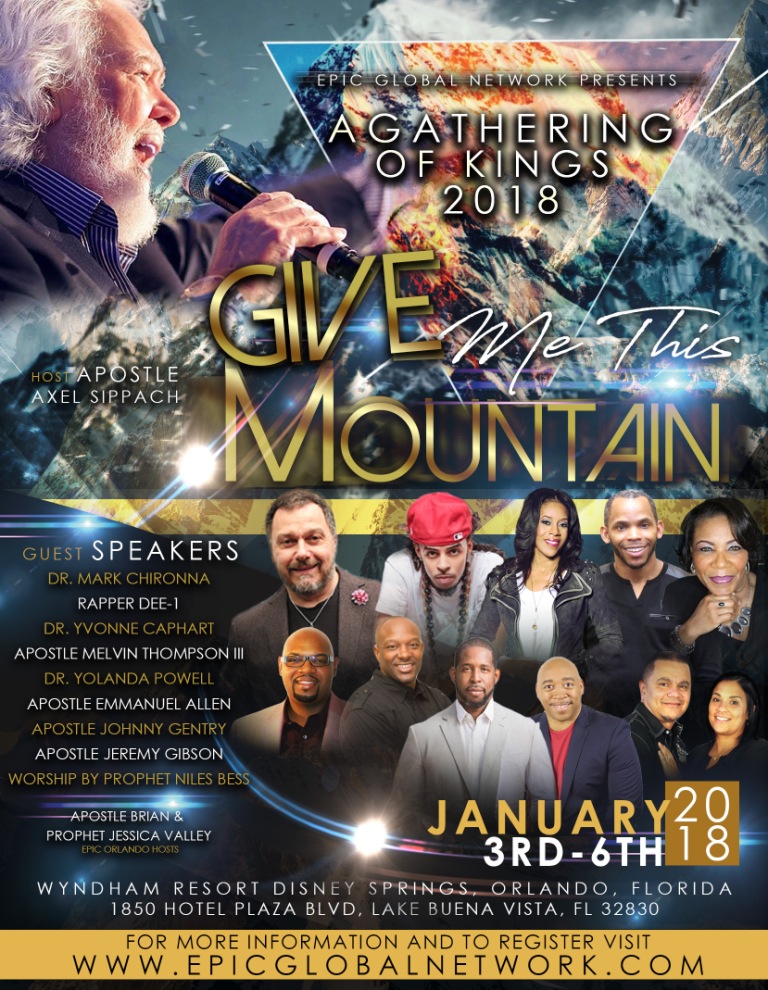 Hotel Direct Number: (407) 828-4444 (press 0) Always mention EPIC if calling to make a reservation
Transportation: From the Orlando airport, if you are not renting a car, it would be Uber ($20-30) or Mears Transportation Shuttle ($23) for the best prices. (http://www.mearstransportation.com/global/orlando/)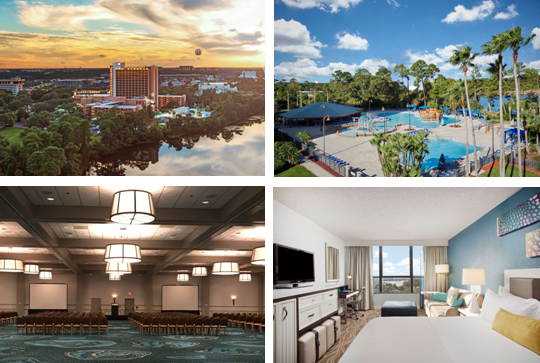 Hotel Information: EPIC has secured special discounted event rates of $119/nt and $139/nt depending on the tryp of room requested at our Summit location, the Lake Buena Vista Wyndam Resort located at Disney Springs,Orlando Florida. The hotel is a 5 minute walk across a pedestrian bridge to Disney Springs which has many restaurants and shops. It has a beautiful outdoor pool area for adults and children. Our negotiated rate also has the extra Orlando resort fee waived.
***Note: when booking a room, your credit card will be charged the first night to secure the room.
***Note: if you call them to make the reservation, please always mention EPIC for this event rate. If you book through a 3rd party source, or connected with your flight, the event fee of $22.50 per night is NOT waived. Only with booking directly with the hotel is the event fee waived which will save you quite a bit of money.
***Note: the Wyndham and the Wyndham Garden are 2 buildings connected together on the same property. The $119 rooms have access from the exterior, and the $139 rooms have access from the interior of the hotel.
***Note: you may book room nights before or after the event if you desire to come earlier or stay later for some vacation time. Disney, Universal and so many other attractions are but minutes from the Wyndham.
EPIC Discounted Room Booking Links:
Wyndham $139 – https://www.wyndhamhotels.com/groups/epic-global-networks-third-annual-summit1
Wyndham Garden $119 – https://www.wyndhamhotels.com/groups/epic-global-networks-third-annual-summit
Hotel Pic Gallery:
https://www.wyndhamhotels.com/wyndham/lake-buena-vista-florida/wyndham-lake-buena-vista-resort-downtown-disney-resort-area/photo-gallery (for pics only – please only use 2 links above to book rooms)
Emmanuel Allen




Speaker

Niles Bess




Worship Leader

Yvonne Capehart







Mark Chironna




Speaker

Dee-1




Speaker

Jeremy Gibson




Speaker

Johnny Gentry lll







Melvin Thompson lll




Speaker

Yolanda Powell




Speaker

Axel Sippach




Summit Host & Speaker

Brian & Jessica Valley




EPIC Orlando Hosts
Date and Time
Location
Wyndham Lake Buena Vista Disney Springs Resort Area
1850 Hotel Plaza Boulevard
Orlando, FL 32830
Refund Policy