About this Event
Come to the Mantorville Opera House Saturday, November 9, at 7 p.m. to see actress and writer Astrid King present A FUNNY WOMAN – a show about her mother, Peg Lynch – the famous radio and TV star of the 40s and 50s.
Margaret Frances Lynch, aka Peg Lynch, was raised in Kasson, Minnesota. She was the first woman to write, star in, and have ownership of her own sitcom – notably, Ethel and Albert.
Astrid King has teamed up with award-winning writer (Minneapolis Star Tribune columnist) and broadcaster James Lileks to entertain audiences. "We're very funny; my mother was a very funny woman. " King said in a news clip at www.peglynch.com.
About the show:
A FUNNY WOMAN is Peg Lynch in all of her shapes and forms. Clips of Peg telling hilarious stories and anecdotes, live skits to bring the original scripts back to life, plus vintage video from the Golden Age of Television which haven't been seen by anybody other than friends and family for over 70 years. Audiences don't just leave laughing they learn something about a great star in American culture.
Peg Lynch was one of the greats.  Discover her for yourself. You won't be disappointed.
Astrid King plans to donate the proceeds of this event to the Mantorville Theatre Company and the Dodge County Historical Society.
Don't miss this unique, entertaining, one-time event on Saturday, November 9, at 7 p.m. at the Mantorville Opera House.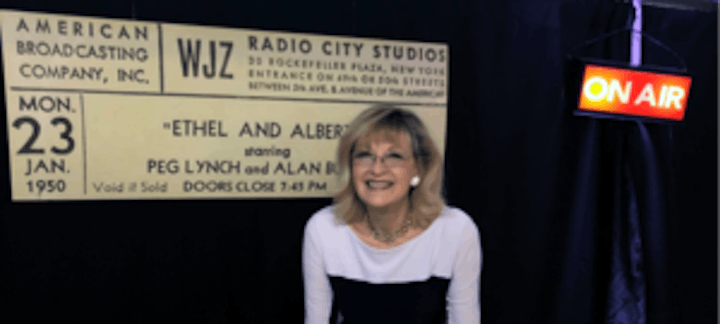 Astrid King, Daughter of Peg Lynch