Description
2 SPOTS LEFT! An intimate food and wine pairing experience for health conscious foodies and wine lovers. Join Lusine and Ted as they guide you through a delicious journey of various flavours, textures, and colours. They will prepare three pairings of healthy canapés and organic, biodynamic wines. Learn the importance of mindful eating to awaken your taste buds. Discover how to pair wine with food in order to build flavour, complexity and body. At the end of the workshop, you will feel like an expert!
What's included:
3 types of wines paired with 3 healthy

canapés

Mindful eating exercise to elevate your tasting experience

Guided wine tasting with instructions on how to pair wine with food

All recipes and descriptions of the wines and suggested food pairings
Note: We source local ingredients as much as possible. Our wines are organic and/or biodynamic, and some are local. The menu is gluten free, and suitable for vegetarians.

*This is an intimate experience with only 10 spots available. RSVP now!
Cost:
Early Bird - $50 (before April 9)

Regular - $60
About your hosts:
Lusine Stepanian, Hons B.A., R.H.N.
Lusine is a Registered Holistic Nutritionist and founder of Bare Holistics - www.bareholistics.com. She runs regular food tasting workshops in Toronto, guiding participants through an exploration of healing foods and simple delicious recipe creations. Using nutrition, lifestyle and mindfulness techniques, she leads her clients into a journey of improved health, and inspires them to look and feel fabulous from inside out. Her motto is "Eat 80% healthy, indulge 20% in your guilty pleasures".
Ted Crysler, Bacchus Wine Academy, Dip WSET
Ted is an Associate of the Institute of Wine and Spirits, having graduated with his Diploma from the Wine and Spirits Education Trust in 2011. He leads wine tasting events and wine education programs, and has led tastings in trade events in Toronto and beyond. He particularly likes to focus on and discuss food and wine pairing in his tastings.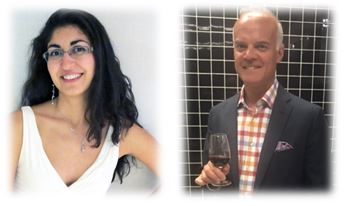 What attendees say about past events:
"I sat in on the class 'Relaxation through Food' and was truly enlightened. Lusine is an amazing and inspiring speaker. Thank you for cooking for us!" - Yvonne

"Wonderful event informative, relaxing and yummy, all my favourite things rolled into one delicious event! Win Win Win!" - Ian

"An amazing take on the way we eat food. Lusine provided expert insight on what and why we eat so fast, how to slow down and what foods help us relax. And the food sampling was so delicious. Brilliant!" - Diana

"If you're ever in need of a host for a successful wine tasting event, Ted is your guy! Ted picked an excellent variety of Canadian and international wines for our tasting and could tell lots about them, all nicely attuned to the various levels of understanding of our guests. He also helped with food pairings and accommodating the tasting for a full evening with a group of ten people. We had such a fun, entertaining and informative evening that we can't wait to have Ted over again soon." - Arnaud

"Ted has led wine tastings on behalf of our association for the past seven years. Funny, educating and engaging, Ted inspires active participation from the audience. Such a pleasure!" - Mischa