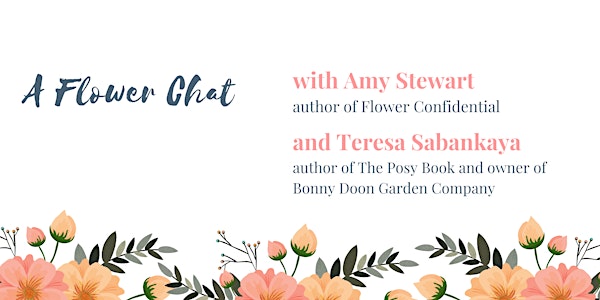 A Flower Chat with Amy Stewart & Teresa Sabankaya
A Flower Chat with Amy Stewart and Teresa Sabankaya
Date and time
Tuesday, February 9, 2021 · 5 - 6pm PST
About this event
In 2007, Amy Stewart published Flower Confidential, an around-the-world, behind-the-scenes look at the global flower industry. The book became an instant New York Times bestseller.
One of the florists Amy interviewed for the book was Teresa Sabankaya of Bonny Doon Garden Company. Teresa's garden-grown, seasonal, sentimental arrangements spoke to a bygone era of floristry--but she's also a forward-thinking innovator in the floral world.
In 2019, Teresa published a gorgeous book of her own, The Posy Book: Garden-Inspired Bouquets That Tell a Story.
Join Amy and Teresa for a chat about their books, their shared love of flowers, and a behind-the-scenes look at how the flower business really operates.
About the organizer
Amy Stewart is the New York Times bestselling author of over a dozen books, including The Drunken Botanist, Girl Waits with Gun, Wicked Plants, and Flower Confidential. She's also an accomplished artist and art instructor. Find out more about her online writing and art classes on her website. She lives in Portland, OR.