Description
This special screening of "Holler If You Hear Me: Black and Gay in the Church" with Director Clay Cane is part of Newark Gay Pride's 4 Days of Love Celebration. Sponsored by the Queer Newark Oral History Project, Newark Gay Pride, Newark LGBTQ Community Center, Unity Fellowship Church NewArk, and the Rutgers University-Newark History Department, African American and African Studies Department, Women's and Gender Studies Program, and American Studies Graduate Program.
---
---
ABOUT CLAY CANE
Award-winning Journalist, Author, Television Personality, Documentary Filmmaker &The Entertainment Editor for BET.com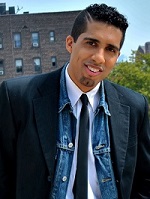 Clay Cane is a New York City-based award-winning journalist, author, television personality, documentary filmmaker and the Entertainment Editor for BET.com. His work covers various topics: pop culture, sexuality, race, religion and social justice. Clay is the creator and director of the BET.com original documentary "Holler If You Hear Me: Black and Gay in the Church," which earned a 2016 GLAAD Media Award nomination for Outstanding Digital Journalism. The White House featured Clay Cane as a Black History Month speaker along with a screening of his documentary on February 24, 2016. Cane was also presented on the panel discussion which followed focusing on faith, sexuality and the African American community.
Clay's commentary is heard on television networks such as MTV, HLN, ABC, MSNBC, BET and FOX. He contributes to numerous print and online publications including The Advocate, Huffington Post, The Root and Gawker. He has interviewed various celebrities, including Clive Davis, Whoopi Goldberg, Kathy Griffin, Beyoncé Knowles, Denzel Washington, Wes Craven, Hilary Swank, Rihanna, Nicki Minaj, Janet Jackson, Queen Latifah, Jennifer Hudson, Jodie Foster, 50 Cent, T.I., Jada Pinkett-Smith, Chris Rock, Tyler Perry, Kevin Hart, Diana Ross and others.
Clay is the co-editor and contributing writer of the anthology For Colored Boys Who Have Considered Suicide When the Rainbow is Still Not Enough: Coming of Age, Coming Out, and Coming Home. He also contributed to Where Did Our Love Go: Love and Relationships in the African-American Community.
On the speaking circuit, he presents keynote addresses, screenings of his documentary film followed by an in-depth conversation about the intersections of religion, LGBTQ issues, sexuality and race; and is also available for panels ranging from diversity in the workplace to LGBTQ issues. His engagements have included Newark's Academy Street Firehouse (an organization for youth who are directly or indirectly affected by HIV/AIDS), Hofstra University, New York University (NYU), University of Miami, among others.
Clay was the host of Clay Cane Live, a weekly call-in radio show on the legendary WWRL 1600AM. After 86 years, the station aired its final broadcast in December 2013. WWRL 1600AM in later years was home to radio programs from Reverend Al Sharpton and Ed Schultz. Clay Cane Live was featured by Jet Magazine, The Advocate, GLAAD and MSNBC's theGrio.com.
Raised in both Washington State and Philadelphia, Clay's diverse racial and socio-economic background has fueled him to consistently deliver edgy commentary and writing that provides sharp, witty, incisive and raw analysis on social justice as it relates to the current news cycle and our culture. He is a member of New York Film Critics Online and the Broadcast Television Journalists Association. He is a graduate from Rutgers University, Phi Beta Kappa, with a B.A. in English and African-American Studies.