A FIERCE GREEN FIRE @ Half Moon Bay

Saturday, March 17, 2012 from 7:00 PM to 10:00 PM (PDT)
Event Details
Saturday, March 17th
Cinema Connect  presents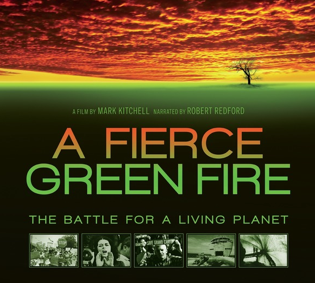 A FIERCE GREEN FIRE
The Battle for A Living Planet
A Fierce Green Fire tells stirring stories of environmental activism – people trying to save the planet, their homes, their lives, the future. It chronicles grassroots and global movements building over five decades; connects all the causes to create a big-picture synthesis; explores how we got here and where we're going. Ours is the time when humanity ran up against nature -- the challenge before us is guiding spaceship earth, bringing our civilization into sustainable balance with the web of life that supports us.
Ted Adcock Community Center
535 Kelly Avenue
Half Moon Bay, CA 94019
Evening Schedule
7:00pm - Doors open (socializing and tea)
7:30pm - Film and post-film discussion led by: Mark Kitchell, Producer/Director
Tickets
Advance $12
Door $16

Film Synopsis

A Fierce Green Fire is the first film to take on environmentalism as a whole, to bring together all the parts and eras, from conservation to climate change. It explores how the issues built into an international cause, the largest movement the world has ever seen and perhaps the most crucial in terms of what's at stake. It's not easy being green – every battle is against the odds. We focus on successes: halting dams in the Grand Canyon; rescuing the people of Love Canal; saving whales and the greatest rainforest on earth. However, we also look at how the struggles continue and the issues grow in scope until it's an open question whether they're too big for the environmental movement to deal with. Our approach differs from the usual environmental documentary in two ways.
First is our focus on activism. We reveal the issues by showing how people acted on them; it's a more engaging approach, emphasizing drama and passion. Second is our emphasis on the big picture – connections, core ideas, what it all means. This film is designed to reach and teach a huge and hungry audience, give them an understanding of environmentalism like nothing before. Now we must all be environmentalists, as Bob Bullard the environmental justice advocate puts it: "There's no Hispanic air. There's no African-American air. There's air! And if you breathe air – and most people I know do breathe air... then I would consider you an environmentalist."

A Fierce Green Fire unfolds in five acts, each 20-25 minutes. E.O. Wilson, the biologist and advisor to the film, suggested focusing on five of the most dramatic and important events and people. In developing those main stories and characters, we discovered each was emblematic of an era and a part of the environmental movement. So we devised an hourglass structure for each act. They begin with the broader context. Then they focus in on the main story, more fully told. Finally they open up again to explore ramifications.
When & Where

Ted Adcock Community Center
535 Kelly Avenue
Half Moon Bay, 94019


Saturday, March 17, 2012 from 7:00 PM to 10:00 PM (PDT)
Add to my calendar
Organizer
Build Communities - Better!  COREcommons is a curated online environment providing best practics and technology solutions for those seeking to advance their community intelligence...  This hub showcases the range of practictioners who speciallize in plannin, building and engaging  the communities of tomorrow.   www.COREcommons.com