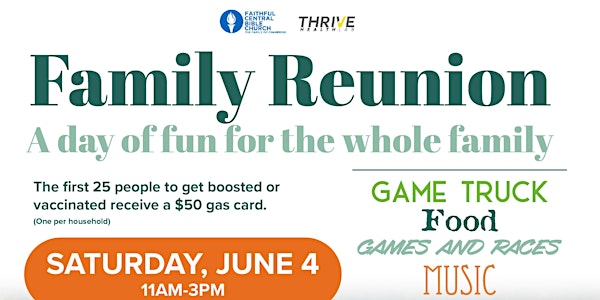 Location
Edward Vincent Jr Park
700 Warren Lane
Inglewood, CA 90302
Grab your family and friends and make your way to Edward Vincent Jr. Park for a day of FREE games, food, music, and fun.
About this event
You are invited to attend our Family Reunion!
Presented by Faithful Central Bible Church and Thrive Health, join us for a day FREE food, games, music, and fun!
While your there, drop by our vaccination clinic and get your COVID-19 vaccine or booster. The first 25 people to get vaccinated or boosted will recive a $50 gas card.
Limit, one card per household.
For additional information on COVID-19 vaccines, go to VaccinateALL58.com.
Registration is highly suggested as space is limited.
Covid-19 Consent: By registering and attending this event, you consent to following State and Federal CDC Covid-19 guidelines and consent to take all recommended and appropriate measures to protect yourself and others from COVID-19 damage, and that you bear the risk. You understand and accept that no one can promise that you will not be subjected to or exposed to COVID-19. *
Photos and/or videos will be taken during the event and may publish photos and/or videos about this event at any given time. These photos and/or videos may or may not include you. By registering and attending this event, you consent to having your photo and/or video recorded during the event.