Description
Today the radio is saturated with Drake tunes -- it seems likis his singles are on repeat on every station! Now we love @ChampagnePapi songs as much as everyone else, but boy do we miss the diverse music of our 80's childhood -- from Michael Jackson to Madonna to Prince to The Eurythmics. So, join us for brunch on Saturday, November 19th and we'll take a brief break from Drake-mania and trap music and throw it back to the classics or our youth. "Sweet Dreams Are Made" of this new brunch experience -- for a few hours DJ A Plus & DJ E Class will transport you to "A Different World" where pop music ruled the radio. You'll also have a chance to meet other old heads at heart who share your love of all things 80s and 90s. Whether you're looking for your Denise Huxtable or your Whitley Gilbert, your Dwayne Wayne or Shaza Zulu, you'll find what you're looking for. Go ahead and gather your girls or your boys and come through to enjoy this tribute to the 80s and 90s -- some of the best musical eras in our recent history.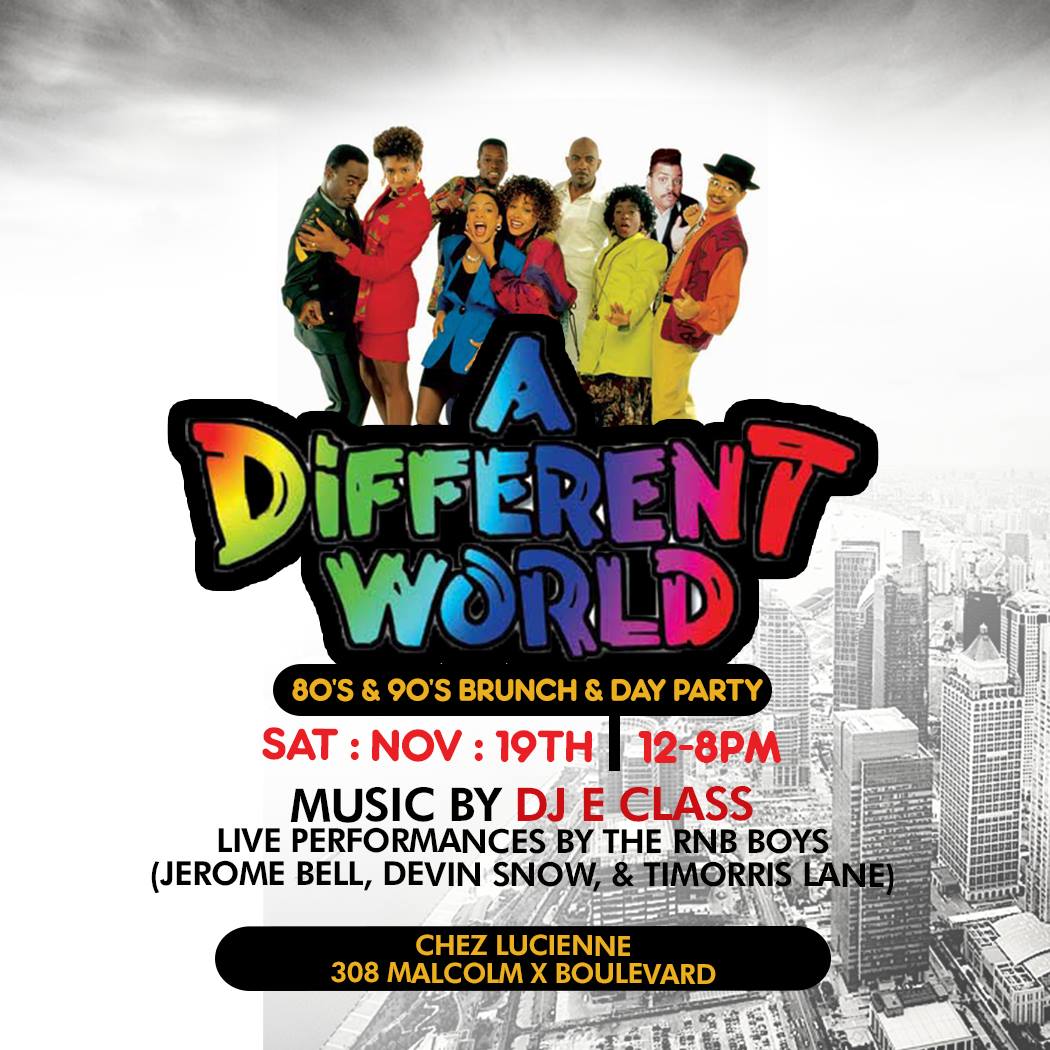 $30 Plus Tax & Gratuity Prix Fixe Brunch includes One Entree and 2 hours of Bottomless Brunch Cocktails
Brunch Cocktails:
Bloody Mary, Bellini, Mimosa, Rum Puch, Sangria (White or Red)
Amuse-Gueules
(Appetizers)
Calamars Frits $10
(Fried Calamari)
Ailes De Poulet $8
(Chicken Wings)
Salade De Mesclun $5
(Mixed Organic Greens Salad, House Vinaigrette)
Biscuits à levure chimique $4
Biscuits
French Toast Et Crepes
Pain Perdu Aux Fruits Frais
(French Toast, Fresh Fruits, Champagne butter sauce)
Pain Perdu Aux Noix De Pecans
(French Toast with Pecans, Creme Chantilly, and Cognac Sauce)
Crepe with Chicken and Mushrooms
Crepes Au Saumon Fume
(Smoked Salmon, Spinach, Mushrooms, and Dill Sauce)
Crepe Classique
(Ham, Swiss Cheese Topped with Fried Egg)
Crepe Epinard Et Chevre
(Spinach, Goat Cheese, and Mushrooms)
Pancakes
(Pancakes Served with Maple Syrup)
Plats L'American
(American Dishes)
Chicken & Waffles
Shrimp & Grits
Burgers
All are served with French Fries and Garnished with Lettuce, Tomato, Onions, and PIckles.
Classique
(Black Angus)
Saumon
(Chopped Atlantic Salmon, and Tartar Sauce)
Dinde
(Ground Turkey Burger with Cranberry Confit)
Omlette Et Ouefs
(Omelettes and Eggs)
Omelette of your choice
Your choice of 2 items: Mushrooms, Tomatoes, Kale, Cheddar, Swiss, ham, herbs
Scrambled Eggs with Veal Sausage
Eggs Benedict with Black Forest Ham
Scrambled Eggs with Smoked Salmon
Eggs Florentine
Grilled Skirt Steak and Scrambled Eggs
Côtés
(Sides)
Fries $6
Bacon $6
Turkey Bacon $6
Sausage (Pork, Veal, Turkey) $6
Happy Hour 2:1
Menu $13
Mojito
(Rum, Triple Sec, Mint, Lime)
Flute a la French
(Champagne, Grand Marnier)
Encore Une Fois
(Vodka, Triple Sec, Pineapple Juice, Passion Fruit, Creme De Cassis)
Collins in Harlem
(Gin, Lemon, Mint, Basil, Lemonade)
Moscow Mule
(Vodka, Lemon, Lime, Ginger, Sour Mix)
Jalapeno Marguerita
(Tequila, Jalapeno, Passion Fruit, Triple Sec, Margarita Mix)
Mon Cheri Chez Lucienne
(Brandy, Grand Marnier, Lemon, Cassis)
Talancon
(Mezcal, Corona, Triple Sec, Egg White, Lime)
Bottle List
Vodka
Finlandia $125
Stoli Elit $200
Ciroc $200
Belvedere $200
Ketel One $200
Grey Goose $200
Gin
The Botanist $150
Hendrick's $150
Tangueray $150
Tequila
El Jimador Silver and Reposado $150
Milagro Silver $160
Herradura Silver $175
Deleon Platinum $200
Patron Silver $225
Whiskey
Jack Daniels $150
Jack Daniels Honey $150
Jack Daniels Fire $150
Gentleman Jack $160
Woodford Reserve $175
Johnnie Walker Black Label $175
The Macallan 12 year $200
Jameson $150
Cognac
Remy Martin VSOP $175
Remy Martin 1738 $200
Hennesy VS $200
Hennesy Privelege $225
Champagne
Korbel Brut $100
Korbel Sweet Rose $100
Veuve Cliquot Yellow Label $150
Moet & Chandon Rose Imperial $300