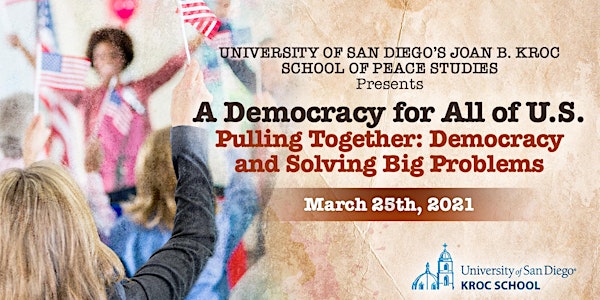 A Democracy for All of U.S.
Presented by the University of San Diego's Joan B. Kroc School of Peace Studies
By University of San Diego
Date and time
Thursday, March 25, 2021 · 5 - 6pm PDT
About this event
Our Challenge
Building on what we learned about how to strengthen our nation and the San Diego region in our first two conversations, the third and final event of this series will explore what we need to do to ensure our democracy can confront our immediate crises, but also solve bigger problems as well – from global conflict, to compounding inequality, to climate change. How do we pull together to confront these massive challenges?
Our Responsibility
It's our responsibility to define what democracy means for all of us, and with each additional voice in the conversation the solution becomes stronger and more resilient.
We can't wait to share this experience with you, and we hope you pass along this opportunity to your community too.
Part 1 of our series took place on January 28th, and Part 2 took place on February 25th. View recordings of the previous two events here:
Note on Registration:
This is the final event in the series! If you registered for the first event or the second event, you are already registered for our last session and will receive reminders in advance.
We look forward to seeing you and your friends, colleagues, and compatriots throughout the series.
The event will be taking place online at live.ademocracyforallofus.com
See you there!