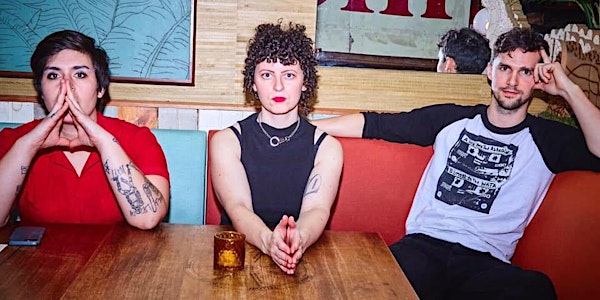 A Deer A Horse at Songbyrd Vinyl Lounge
ALL AGES
with Caustic Cassanova and Venray
Live In The Vinyl Lounge
When and where
Location
Vinyl Lounge at Songbyrd 2477 18th st NW Washington , DC 20009
About this event
From their roots in Brooklyn's DIY scene, A Deer A Horse has grown into a relentless touring act over the years. The band has clocked in nearly 250 shows across the country since 2017.
ADAH is comprised of Rebecca Satellite (vocals/guitar) and Angela Phillips (bass/vocals), and Dylan Teggart (drums). Their debut EP, Backswimmer, drew praise from the AV Club, who noted the band's unlikely marriage of doom metal dirges with vocal earworms.
In 2018, ADAH released singles "Cold Shoulder" and "Double Wide" in anticipation of their EP, Everything Rots That Is Rotten. The EP reflects upon the current socio-political moment, offering the possibility of catharsis in the midst of systemic corruption. Everything Rots That Is Rotten was recorded at Silver Cord Studio, home-base of French metal pioneers, Gojira, and was released in June 2019.
Caustic Casanova
https://causticcasanova.bandcamp.com/
Venray Band
https://venray.bandcamp.com/