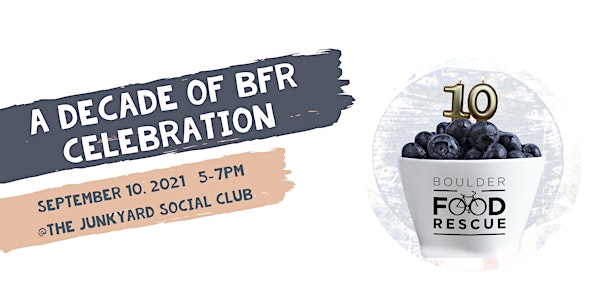 A Decade of BFR Celebration
Boulder Food Rescue is celebrating their 10 year anniversary with a free celebration!
When and where
Location
Junkyard Social Club 2525 Frontier Ave. Unit A Boulder, CO 80301
About this event
Boulder Food Rescue is turning 10 years old! We would love for you to drop in for a free anniversary celebration at The Junkyard Social Club on 9/10 from 5-7 pm.
This milestone could not have happened without your support, so we want to celebrate you too! Come explore at the new Junkyard Social Club's interactive outdoor playground, mingle, and celebrate a decade of community, food justice and reducing food waste! We're looking forward to chatting about what we have been up to since we last saw one another.
Kids and families are welcome and encouraged to attend!
This event will be free! Space is limited, so we do ask that you register for the event. If you decide to not come, please cancel your registration as soon as you know.
We will be providing:
Since the venue is an active playground, they require a waiver for entry. We will have this available at the door, but if you would like to fill it out ahead of time, it can be found here.
- -
About the venue:
The Junkyard Social Club is a new venue in town that self identifys as a rebel museum and adventure playground. Their outdoor playground encourages building, climbing and freeplay - for both children and adults. They will officially open this fall!
Here is a video from them to learn more about the space and their mission.
- -
COVID-19 safety
We are following the guidance of the CDC and our local public health officials. We will be monitoring the delta variant and COVID-19 closely and will update guests with precaution guidelines as the event draws near.
This is an outdoor event. We ask that all attendees be ready to follow the guidelines of the venue and we are encouraging mask-wearing.
We are limiting the number of guests to be below the capacity of the venue and are asking for registrants to choose a timeslot in the first hour or in the second hour.
If you decide to not come, please cancel your registration as soon as you know.
Venue protocols:
Masks required inside
No eating/drinking inside
Masks optional outside
JSC Staff will be masked