"A Day's Work" Film & Discussion, presented by the Public Justice Center

Thursday, April 21, 2016 from 2:00 PM to 4:30 PM (EDT)
Event Details
Join us for the Maryland premiere of the award-winning documentary A Day's Work, sponsored by the University of Baltimore's Hoffberger Center for Professional Ethics. The screening will be held at the Mebane Turner Learning Commons, Room 201, at 1415 Maryland Ave on the campus of the University of Baltimore

FREE and OPEN TO THE PUBLIC!
Screening of the film will be followed by a robust discussion about workers' rights and workplace safety, connecting the film to local issues and action. Audience members will have an opportunity to engage with community leaders, attorneys from the Public Justice Center's Workplace Justice Project, workers' rights advocates and the film's producer.

About the Film: 90 minutes before he was killed on his first day of work as a temporary employee, 21-year-old Day Davis texted a picture of himself to his girlfriend, excited for their future. Now Day's sister, 17-year-old Antonia, searches for answers. An investigation reveals the troubling issues that led to Day's death and how the $100 billion temporary staffing industry is putting millions of American workers at risk.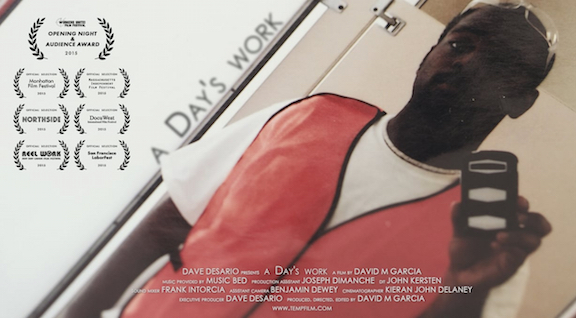 "a smartly crafted documentary with textured characters - a rarity in the genre" - Chicago Tribune
"a moving documentary...portrayed with a punch" -The Indypendent


About the hosts and sponsors:

The Public Justice Center works with people and communities to confront the laws, practices, and institutions that cause injustice, poverty, and discrimination. We advocate in the courts, legislatures, and government agencies, educate the public, and build coalitions, all to advance our mission of "pursuing systemic change to build a just society.
The mission of the Hoffberger Center for Professional Ethics is to promote ethical awareness and critical discussion of ethical issues across all University curricula and academic programs. Emphasis is placed on encouraging students to think responsibly about the kinds of moral dilemmas and choices they will face as Maryland's future business and professional leaders. The Center provides faculty with teaching models for realizing its primary mission and sponsors faculty research, student internships, and public programs in business and professional ethics.
The Center for Progressive Reform connects nationally recognized law professors with advocates and policymakers to promote social justice in the fields of workers' rights, public health, and the environment. CPR's mission is to be the antidote to the "think tanks" that are little more than hired guns promoting right-wing rhetoric. In contrast, we support thoughtful government actions and policies that address the needs of vulnerable people.
When & Where

University of Baltimore
1415 Maryland Ave
Room 201
Baltimore, MD 21201


Thursday, April 21, 2016 from 2:00 PM to 4:30 PM (EDT)
Add to my calendar
Organizer
"A Day's Work" premiered on April 28, 2015: International Workers' Memorial Day. It has officially selected by film festivals across the country including winning the Audience Award at the Workers Unite Film Festival in NYC. The film has proven to be a emotional and education organizing tool for the labor community. It has played for the leading unions, government agencies, universities and community organizations working to direct action and inspire change.