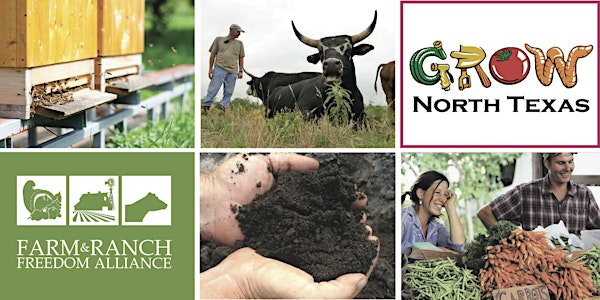 A Day With Grow North Texas and FARFA - Winnsboro
When and where
Location
Winnsboro Train Depot Broadway between Main & Walnut Streets Winnsboro, TX 75494
Description
Local food producers in the Winnsboro area are invited to join Grow North Texas and Farm and Ranch Freedom Alliance in a day of learning. You may register for all or any part of the day's events:
10 a.m.-12 p.m. Grow North Texas Workshop* -- FSMA Exemptions: Most small, direct-marketing farmers and food producers will be exempt from the major new FDA regulations under the Food Safety Modernization Act – but "exempt" doesn't mean you can ignore them! Record-keeping, signage, and dealing with institutional buyers all mean you need to understand the specifics of the FSMA exemptions. This workshop will explain the scope of the exemptions as well as issues to consider as you grow or diversify your business.

12-12:30 p.m. Lunch provided by FARFA & Grow North Texas
12:30-2:30 p.m. FARFA's "Raise Your Voice"* town hall/listening session for small farmers and local food producers, led by Farm and Ranch Freedom Alliance Executive Director Judith McGeary.
2:30-3 p.m. Advocacy training session providing you with tools for effective communications with elected officials and for inspiring change.
*The Grow North Texas Workshop is supported by a grant from USDA; FARFA's Raise Your Voice program is support by grants from Farm Aid and Clif Bar Family Foundation.