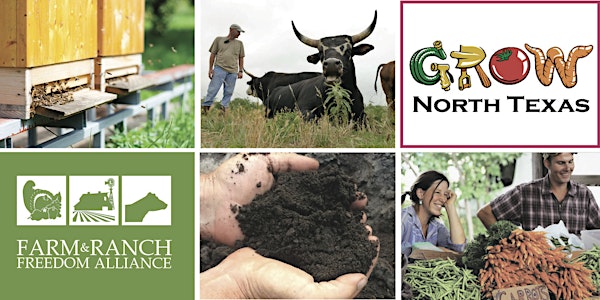 A Day With Grow North Texas and FARFA - Waco
When and where
Location
TownPlace Marriott - S. Waco 5621 Legend Lake Parkway Waco, TX 76712
Description
Local food producers in the Waco area are invited to join Grow North Texas and Farm and Ranch Freedom Alliance in a day of learning. You may register for all or any part of the day's events:
4 p.m.-6 p.m. Grow North Texas and FARFA present Cottage Foods and Local Food Regulation. This workshop will cover the Texas Cottage Food Law in detail, for producers who want to make food in their home kitchen (rather than a commercial kitchen). Learn what & where you can sell, as well as get more information about common concerns like advertising, sampling, and insurance. The workshop will also cover state laws on selling eggs, meat, and other products (note that local regulations on these topics may differ). FARFA's Executive Director also will encourage sharing of any issues participants have regarding regulations that impact their local food production and marketing efforts.

6-6:30 p.m. Meal provided by FARFA & Grow North Texas. Gluten-free and vegetarian options also available.
6:30-8 p.m. Listening session and Cottage Foods Workshop resume.
8-8:30 p.m. Advocacy training session providing you with tools for effective communications with elected officials and for inspiring change.
*The Grow North Texas Workshop is supported by a grant from USDA; FARFA's Raise Your Voice program is support by grants from Farm Aid and Clif Bar Family Foundation.