Description
The ASD Nest Support Project is pleased to present A Day With Brenda Smith Myles, a workshop for teachers, therapists, parents, and care-givers on practical hands-on strategies for working with individuals on the autism spectrum.
Dr. Smith Myles is an autism specialist with over 20 years experience in the field, the author of 250 books and articles, who will share insights and strategies from her books The Hidden Curriculum and Simple Strategies That Work.
Hidden Curriculum: Practical Solutions for Understanding Rules in Social Situations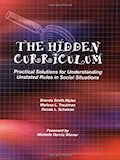 The Hidden Curriculum refers to the set of rules or guidelines that are often not directly taught but are assumed to be known (Garrett, 1984; Hemmings, 2000; Jackson, 1968; Kanpol, 1989). This curriculum contains items that impact social interactions, school performance, and sometimes health and well-being. The curriculum also includes unspoken rules, slang, metaphors, body language, etc. While this information may be intuitive for neurotypical individuals, it is not for those with autism or other special needs. This session includes practical tips for teaching these hidden social needs to children and to adults and stresses the importance of making these a part of everyday life.
Simple Strategies that Work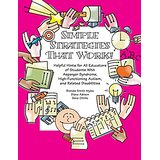 Interventions for individuals identified with high-functioning ASD will be the topic of this presentation. A brief overview of "lost cost" or easily used strategies, including priming, home base, the hidden curriculum, will be presented. All strategies can be used across environments by those who support individuals with special needs.
---
Dr. Brenda Smith Myles
Brenda Smith Myles Ph.D., a consultant with the Ohio Center for Autism and Low Incidence (OCALI) and the Ziggurat Group, is the recipient of the Autism Society of America's Outstanding Professional Award, the Princeton Fellowship Award, The Global and Regional Asperger Syndrome (GRASP) Divine Neurotypical Award, American Academy of Pediatrics Autism Champion, and two-time recipient of the Council for Exceptional Children, Division on Developmental Disabilities Burton Blatt Humanitarian Award. She served as the editor of Intervention in School and Clinic, the third largest journal in special education and has been a member of the editorial board of several journals, including Focus on Autism and Other Developmental Disabilities, Remedial and Special Education, and Autism: The International Journal of Research. Myles is also on the executive boards of the Scientific Council of the Organization for Autism Research (SCORE), College Internship Program, Early Autism Risk Longitudinal Investigation Network, and ASTEP – Asperger Syndrome Training and Education Program.
Date and Time
Location
Kimmel Center for University Life
60 Washington Square South
Rosenthal Pavilion
New York, NY 10012