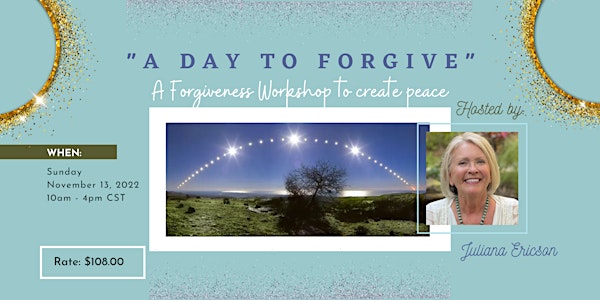 "A Day to Forgive"
A Forgiveness Workshop to Create Peace.
When and where
Location
Nurture Nashville Yoga (formerly Blooma Nashville Yoga) 992 Davidson Drive Nashville, TN 37205
Refund Policy
Contact the organizer to request a refund.
Eventbrite's fee is nonrefundable.
About this event
ATTN: People Who Wants to Forgive and Create Peace
Are Family Holidays difficult and challenging for you?
Is the holiday season a time of anxiety, stress and even depression for you?
Do holidays bring up memories of family fights, loneliness, suffering and anger?
If you answered yes to any of these questions, you will find help in this workshop!
A Day to Forgive is a Forgiveness Workshop for your Holiday Peace. It can make this holiday different from all your others. We know that not everyone had a Norman Rockwell-type childhood where they were loved and nurtured. For many people the holiday season is a time of anxiety, stress and even depression. To these people, holidays bring up memories of family fights, loneliness, suffering and anger.
Forgiveness author and Positive Mindset Coach, Juliana Ericson is offering you a helping hand. A day of learning to let it go and feel what freedom can feel like. The term Forgiveness actually means "to let go, to loosen, to untie". It's nothing to do with being right or wrong. Oprah Winfrey says "Forgiveness is the willingness to be happy" "to give up hoping the past could be any different".
At this Workshop you will discover:
✅ What to do to attain your holiday peace.
✅ Provide processes to help you loosen the anger within you.
✅ Some processes that will be with an assigned partner and on your own.
✅ How to help you soothe it all over with a group Breathwork session.
Why not start with this one-day workshop, Forgiveness Workshop for Your Holiday Peace, on how to do it. This highly interactive workshop will be on Zoom.
ONLINE + IN-PERSON CLASS OPTIONS
See TICKET OPTIONS for this Event.
TESTIMONIALS
Juliana is an incredible person with a gift of guiding and helping you heal. She's patient and kind and holistic and open minded and vulnerable and brave - all things you want in a member of your care team!"
- - Mimi Rose, Therapist
Juliana is a gifted coach and counselor. I love processing my "stuff" with her assistance because she allows me to go at my own pace - I feel honored & safe & loved in her presence."
- - Cathryn Ellen, Retired Librarian
JOIN THE MOVEMENT
Join the "Awakening" Facebook Community HERE. We are building a spiritual sisterhood, having weekly discussions to learn, practice and become calm in the midst of chaos.
ABOUT THE HOST
Juliana Ericson has been a Positive Mindset Coach, specializing in Rebirthing Breathwork and Forgiveness for 26 years. She's dedicated to creating a compassionate culture and helping humanity evolve to their highest potential. She guides her clients to see the higher more empowered version of themselves, which she believes is always present. Juliana was classically trained in psychology and philosophy at Florida State and Vanderbilt Universities, then went on to study alternative modalities after her epiphany 26 years ago. Ericson published a book on the subject of forgiveness called "the Other F Word: 7 Days to Forgiving Anyone", available on Amazon. She leads multi-month Transformational workshops, several live and virtual weekend workshops, as well as her ongoing private practice in Nashville, Tennessee.