Teens Against Bullying and Family Support Network Health Information Center
About this event
The purpose of this campaign is to bring awareness to youth victimization through bullying, and the challenges faced by families of children and youth with special health care needs. Children and youth with special health care needs are children first. They want the same experience like any other child, an opportunity to socialize and feel good about themselves. This event is to support children and youth with special health care needs and their families with a day of relaxation and socialization. Some of the activities include makeup, nails, haircuts for males, and free formal wear on a first come first serve basis. Parents bring your child(ren) out for a day of free activities and a free photo-shoot.
This event is for ages 13 to 21 years. PARENTS are required to remain on site.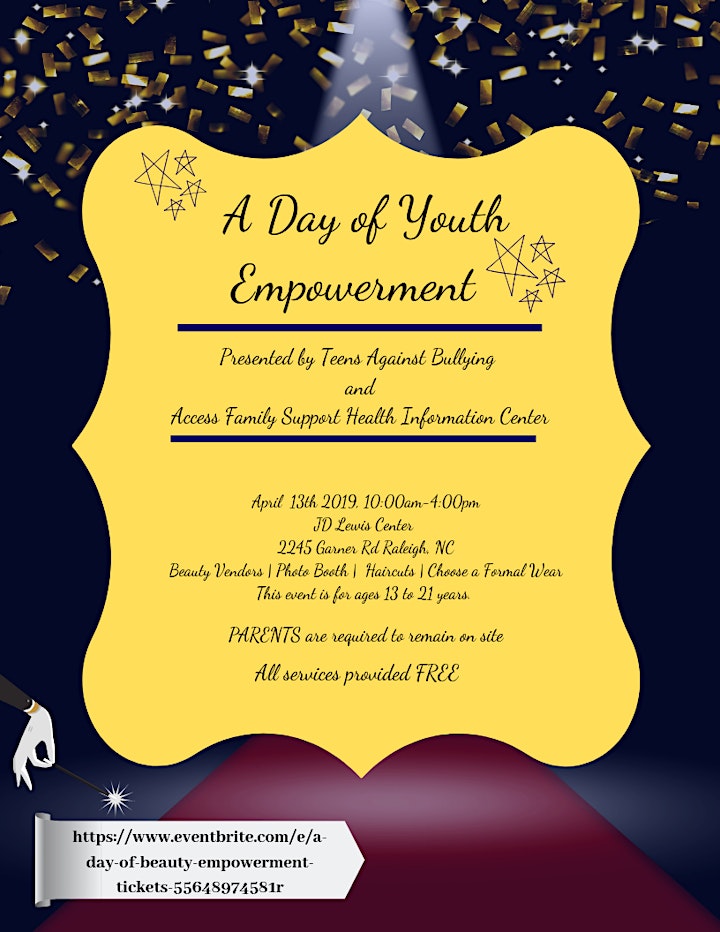 Organizer of A Day of Youth Empowerment
TAB is a youth victimization assistance program that helps youth overcome their trauma that has resulted from bullying. We help empower youth to advocate for themselves and others, while reducing self-harm and aggressive retaliation.

━━━━━━━━━━━━━━━━━━━━━━━━━━━━━━━━━━━━━━━━

Additionally, we provide free peer-led Youth Victim ID Campaigns in the community to raise awareness about bullying, while providing resources for youth and informing them of their rights.