A Day of Beauty, Wellness and Wisdom
When and where
Location
abc carpet & home 888 Broadway New York, NY 10003
Refund Policy
Contact the organizer to request a refund.
Description
WELLNESS SCHEDULE
9:30am
Organic, Fair Trade Coffee and Tea Bar
10am
Meditation with Deepak Chopra
11am
Intelligent Nutrients talk with Horst Rechelbacher
12pm
Revive and Be Well with Dr. Frank Lipman
Juice Bar and Chocolate Tastings
1pm
Lifting Skin Care Secrets by Tracie Martyn
Mini-facials with Tata Harper
Makeovers with Rose-Marie Swift
Consultations with Elena Brower
2pm
Makeovers with Rose-Marie Swift
Lifting Skin Care Secrets by Tracie Martyn
Mini-facials with Tata Harper
The Truth About Nutrition: The MindBodyGreen Approach
Moderated by Jason Wachob, Founder of MindBodyGreen
with Alisa Vitti, HHC, AADP, Robin Friedlander, MD, Reid Winick, DDS,
Jeffrey Morrison, MD, James Maskell, Dana James
3pm
Makeovers with Rose-Marie Swift
Organic Avenue with Denise Mari and Doug Evans
Art of Attention with Elena Brower
3:30pm
Closing Meditation and Talk with Gabrielle Bernstein
with additional workshops and demonstrations by Aquaovo, Organic Avenue, Lotus Wei/Wei of Chocolate, Raaka Chocolate, RMS, Arcona, Laughing Man, Kopali, Alternative Move, Intelligent Nutrients, Sort of Coal, Tata Harper, and H Gillerman Organics
Schedule subject to slight time changes and additional programming; all participants will be emailed accordingly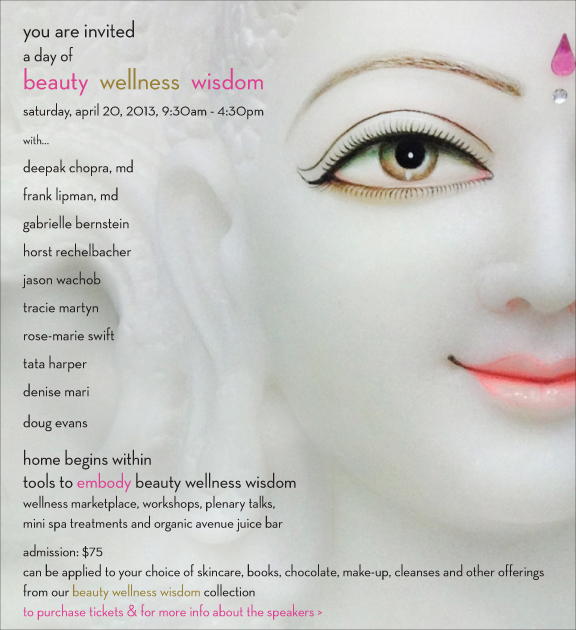 deepak chopra, md
Luminary and futurist, Deepak is the author of over 65 books, including numerous New York Times bestsellers. Founder of the Chopra Center for Well Being and co-founder of Deepak HomeBase at ABC Carpet & Home, he hosts the Love In Action series, stewarding conversations with contemporary influencers including 50 cent, Fran Drescher, Mark Ruffalo, Russell Simmons, Adrian Grenier, Bobby Kennedy Jr, and Arianna Huffington, in a commitment to raising conscious awareness and creating positive change in the world.

frank lipman, md
A leader in the field of integrative medicine, Dr. Lipman became board certified in internal medicine after serving as Chief Medical Resident in his final year of residency at Lincoln Hospital in New York City. He now practices an originative blend of what has been coined "Good Medicine," combining each of his areas of expertise including: internal medicine, acupuncture, herbal medicine, functional medicine, nutrition, biofeedback, meditation, and yoga.
gabrielle bernstein
Featured on Oprah's Super Soul Sunday as a next generation thought leader, Gabrielle Bernstein is making her mark. Gabriells is the New York Times Bestselling Author of the book May Cause Miracles.Her earlier titles include Add More Ing to Your Life and Spirit Junkie. Forbes named Gabrielle one of the Top 20 Best Branded Women and Youtube named her one of their Next Vloggers. Gabrielle is also the founder of the social networking site HerFuture.com for women to inspire, empower and connect.

horst rechelbacher
As visionary founder of Aveda, Horst revolutionized a paradigm shift in the beauty world. The leading pioneer and innovator of plant-based apothecary, he brought a new level of consciousness to the industry with his launch of Intelligent Nutrients, an extensive health and beauty collection using the highest standards of 100% food-based, safe, non-toxic and organic ingredients.
elena brower
Mama, founder and co-owner of VIRAYYOGA, and co-author of Art of Attention, Elena has taught yoga for 16+ years. Through her teaching, influenced by several traditions including alignment-based Hatha and Kundalini yoga, Elena offers yoga as a way to approach our world with realistic reverence and gratitude. Her classes are a masterful, candid blend of artful alignment and attention cues for your body, mind and heart. As the Executive Producer of On Meditation, she is curating a project about the relevance of meditation and its benefits.

tracie martyn
British-born New York beauty expert, Tracie Martyn is the authority to whom numerous designers, actors, and models, including Diane Von Furstenberg, Kate Winslet, and Georgia Jagger, entrust their faces as the premier choice for a non-invasive, yet effective approach to beauty. Her powerful range of luxe, all-natural skincare is scientifically formulated for fast results targeting wrinkles, lack of elasticity, sun-damage, large pores, hyperpigmentation, and other concerns. Tracie's eponymous line, petrochemical free blends of organic botanicals with natural cosmeceuticals, provide an easy to use and enjoyable beauty ritual and has been featured in Vogue, Vanity Fair, InStyle, Elle and Harper's Bazaar, as well as on the Oprah Winfrey Show.
rose-marie swift
Combined with extensive research of organic ingredients and her two decades of professional experience as a make-up artist, Rose-Marie launched the rms beauty line in 2008 as the first truly organic color cosmetics brand anywhere in the world. As an outspoken advocate for protecting ourselves from toxic chemicals found in products we use on our bodies daily, Rose-Marie is frequently interviewed for health and beauty publications.

tata harper
Tata Harper is the founder and CEO of Tata Harper Skincare, a 100% natural skincare line that doesn't compromise on smell, texture or performance. Passionate entrepreneur and lover of science, Tata's line of beauty products was co-created with a team of top industry experts from around the world.

jason wachob
His goal is to promote the idea that wellness is for everyone -- and that it can be fun and fulfilling. After years of successfully trading equities on Wall Street, Jason decided to make a lifestyle change –- focusing on wellness and building companies that promote it. He is the Curator and one of the Founders of MindBodyGreen –- a website that is dedicated to helping people live better, healthier, and greener.

denise mari
Founded Organic Avenue in 2000, combining her passion for whole foods, healing, vegetarianism and entrepreneurship. She`s inspired by the implications of a Live, Organic, Vegan, Experience. From community gatherings to cleanse programs and retreats, she continues to reinvent and refine the offerings of Organic Avenue.

doug evans
The first angel investor and lead juicer at Organic Avenue in 2002, Doug has been living a raw, vegan lifestyle for the past 14 years. As an ardent and passionate entrepreneur, he is presently a director of Organic Avenue and looking forward for furture investments in health and wisdom opportunities.

alisa vitti, hhc, aadp
She founded Laughing Sage Wellness Center, now the FLO Living Center (www.FLOliving.com) in Manhattan 9 years ago after experiencing the many frustrating health symptoms of polycystic ovarian syndrome (PCOS), and then healing herself through food and lifestyle changes.

james maskell
Born into a holistic worldview, James' life has spanned three continents, weaving in health economics, alternative medicine, digital marketing and sales management. His new project, Revive Primary Care, combines a nationwide network of holistic doctors with a unique digital education platform to catalyse a sustainable change in American healthcare.

dana james, ms, cns, cdn
A triple board certified nutritionist and founder of Food Coach NYC, a nutritional therapy practice, based in Manhattan. Dana is trained in nutrition biochemistry, functional medicine and cognitive behavioral therapy. It is through this combination of nutrition medicine and counseling that Dana can bring about a transformational shift in her clients' health and emotional wellbeing.

jeffrey a. morrison, md, cns
Trained and board certified as a family practitioner, Dr. Morrison opened The Morrison Center almost a decade ago to help patients optimize their health and overcome disease through integrative medicine and nutrition.

robin friedlander, md
An integrative physician practicing in New York City. She marries the best of yoga, meditation, Ayurveda, nutrition science, and western medicine to help people get to the root of their imbalances and find optimum health.

reid l. winick, dds
He has extensive experience in general dentistry, the Oral Systemic Link, as well as in TMJ and craniofacial disorders. Dr. Winick is the founder and president of Dentistry for Health New York, a green and sustainable dental practice designed as a haven for overall wellness. He is committed to the environment and to the health and wellness of his patients' mind, body, and spirit.