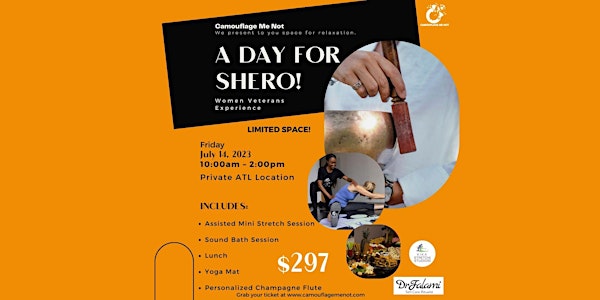 A DAY FOR SHERO!
Join us on July 14th, 2023 at 10 a.m. for "A DAY FOR SHERO!", a treat for the amazing women veterans who have given their best selves!
Date and time
Friday, July 14 · 10am - 2pm EDT
Refund Policy
Contact the organizer to request a refund.
Eventbrite's fee is nonrefundable.
Agenda
10:30 AM - 12:30 PM
30-Minute Mini Stretch Sessions

Kika Stretch Studios
---
Kika Stretch Studios certified coaches provide 30-minute 1-on-1 assisted stretch sessions with our sheroes. Each shero will schedule her session time and complete a pre-intake telephone consultation ...

12:00 PM - 12:45 PM
Chatting over Catered Lunch
---
Sheroes enjoy lunch and wine while conversing with fellow sheroes, our collaborators, CMN's family, and sponsors.
1:00 PM - 1:45 PM
45-Minute Group Sound Bath Session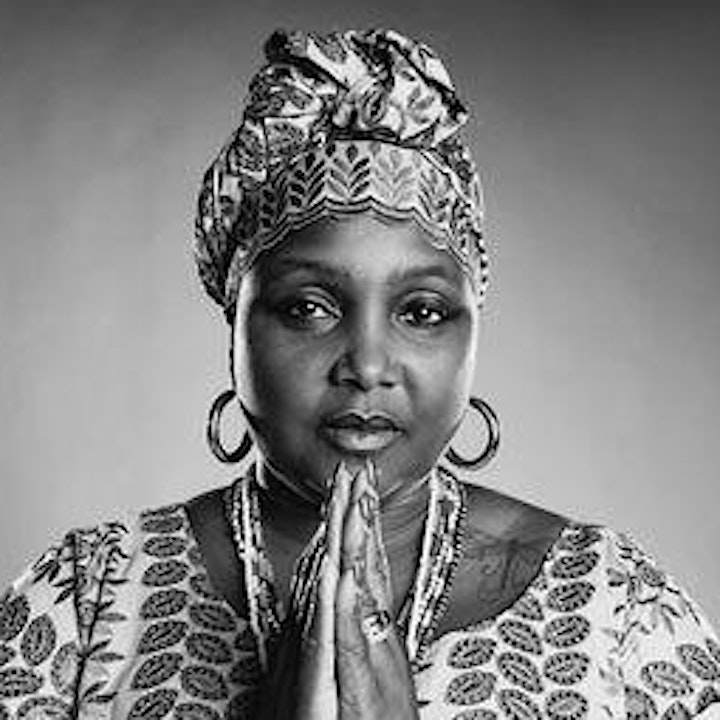 Dr. Falami
---
​Sheroes enjoy the benefits of sacred sounds (lowering blood pressure and focusing concentration on your breathing) from crystal singing bowl moves, led by a certified holistic health coach.
About this event
WHAT IS IT?
A Day For Shero - Is hosted by Camouflage Me Not to recognize and uplift our women veterans during National Minority Mental Health Awareness Month. We want you to know that we see you and are here for you.
It is a unique experience designed by a woman veteran made for women veterans to relax, learn, and practice holistic self-care activities while connecting with a community of sheroes over lunch.
COLLABORATORS:
Kika Stretch Studios
In 2011, Kika Wise founded Kika Stretch Studios to introduce a new approach to people's health and fitness. Through gentle assisted stretching, Kika Stretch Studios helps clients maintain youth and vitality with designed tension relief that aids in increased flexibility and overall ability.
Kika Stretch Studios' unique system also features a custom line of products, including stretching oils and socks to enhance the assisted stretching experience.
Dr. Falami, Certified Holistic Health Coach
Dr. Falami is a Holistic Human Development Strategist. A Womanist committed to holistically nurturing and supporting the intellectual, emotional, personal and professional grounding of Black women and learners in communities where they lead, serve and learn.
Engaging, charismatic public speaker, Dr. Falami customizes her presentations to meet the needs of her audience.
Frequently asked questions
How accessible is this space?
How can I become a sponsor for A Day For Shero?
About the organizer
Camouflage Me Not (CMN) is a new initiative launched on March 27, 2018, by Erica N. Parks, a vetpreneur and public health practitioner. It means "Don't Hide Me." Our mission is to create social awareness to enhance the transition process for women and minority veterans holistically. We are the Gladiators for Veterans!
CMN was birth on February 18, 2018, out of the pain and challenges that Our Founder experienced after she left the military. Erica realized the gaps, lack of resources, and support needed to help veterans and their families readjust in the civilian sector and thrive post-military life. CMN is becoming a 501(c)4 non-profit organization, and we are currently looking for more founding board members. We advocate and will lobby for policies to enhance the quality of life for veterans and their dependents.
We also create events to enhance connectivity between veterans and non-veterans around national public health initiatives.