A Date with Oculus Rift

Wednesday, August 26, 2015 from 7:00 PM to 10:00 PM (EEST)
Event Details
The Virtual Reality Turkey Community is excited to welcome Oculus Rift's Senior Engineer Volga Aksoy who is flying down from Silicon Valley to join us on Wednesday August the 26th. Join us to hear all the latest news around the Oculus Rift and what we are expecting to see in 2016.
We are also very excited to welcome Deniz Opal from Hologram Studios who will be discussing what it means to develop for this new consumer platform. What are the known and unknown challenges, what are the technical barriers and potential market opportunities?
We will also have an open floor of Virtual Reality experiences from various companies and organisations for attendees to experience.

Agenda:
19:00 – 20:00 – Open Virtual Reality Demos
20:00 – "Approaching 'Day 1' for Virtual Reality" – Volga Aksoy – Oculus
20:40 – "A VR Mind Map" – Deniz Opal – Hologram Studios
21:15 – 22:30 – Open Virtual Reality Demos

This event is open to the public and is free of charge. If you are a developer, student or just interested in VR you are welcome!
We are working in Partnership with Virtual Umbrella in the UK with their 'VR in a Bar II' event that will be taking place at the same time in London.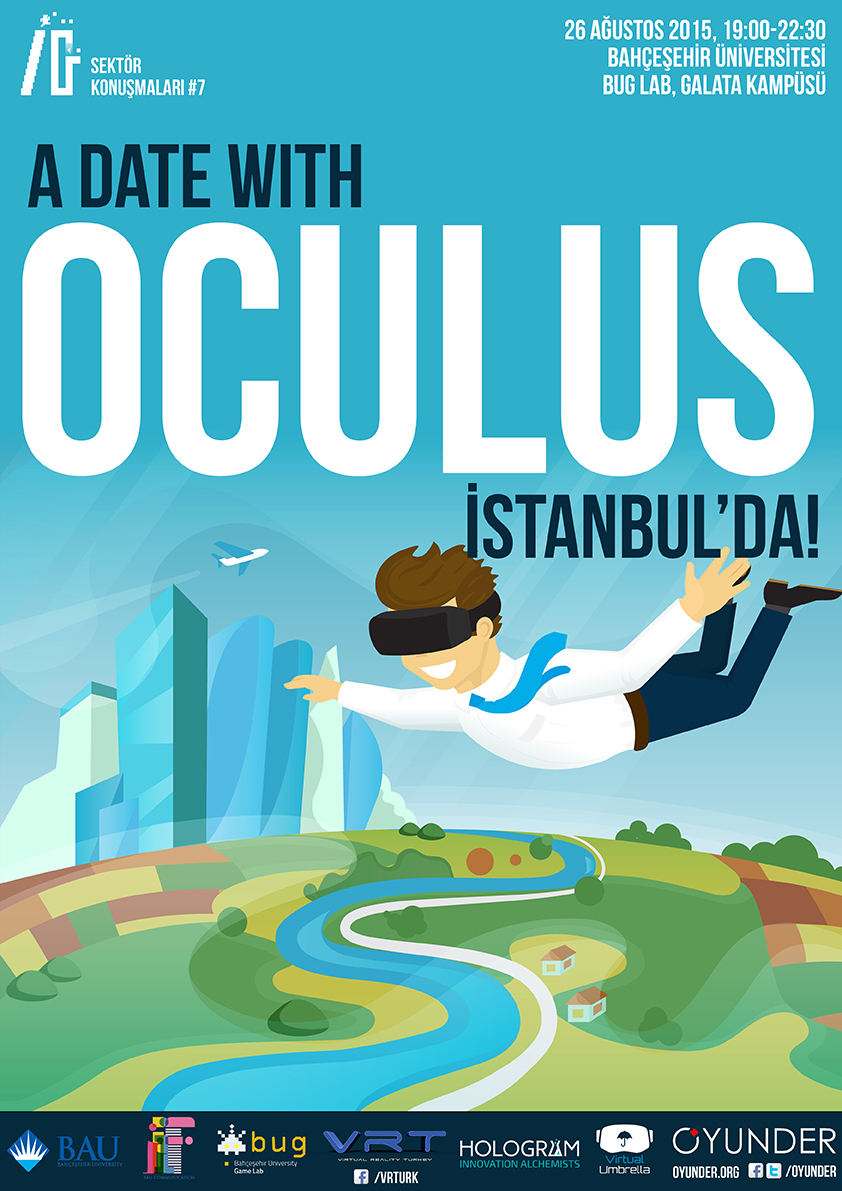 When & Where

Bahçeşehir Üniversitesi Galata Yerleşkesi (BUG)
Müeyyetzade Mah. Kemeraltı Cad.
Karaoğlan Sk No:24/A Karaköy, Beyoğlu
Istanbul, No selection required 34400
Turkey

Wednesday, August 26, 2015 from 7:00 PM to 10:00 PM (EEST)
Add to my calendar
Organizer
OYUNDER Türkiye'nin oyun endüstrisini temsil eden ve kar amacı gütmeyen Dernek statüsünde bir birliktir. Üyeleri arasında bağımsız oyun geliştiricileri, yapım ve yayıncıları, tasarımcılar, grafik sanatları uzmanları, animasyon uzmanları, müzisyenler, ses teknisyenleri, sektöre hizmet sağlayan mali uzmanlar, hukukçular, amatör ve profesyonel sektör temsilcileri, teknoloji işletmeleri, öğrenciler ve akademisyenler bulunmaktadır. OYUNDER'in vizyonu Türkiye oyun sektörünü bu alanda dünya üzerinde en iyi yerel koşullara ve en güçlü ekosisteme sahip piyasa haline getirmektir. Bu amaçla yurt içi ve yurt dışında tanıtım faaliyetleri yürütecek olan OYUNDER sektörün önünü açacak hukuksal düzenlemelerin oluşturulması için araştırma çalışmaları ve piyasa analizleri gerçekleştirecek ve bunların sonuçlarını yapıcı öneriler haline getirerek hükümet, kamu kurumları ve yerel makamlar nezdinde paylaşacaktır.