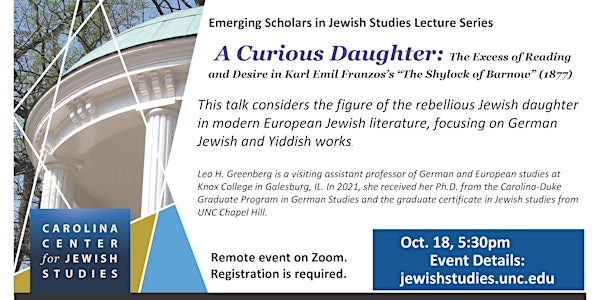 A Curious Daughter: Excess of Reading/Desire in Franzos's Shylock of Barnow
This talk examines the roles of reading and desire in one case study, "The Shylock of Barnow" by Galician author Karl Emil Franzos (1847)
By Carolina Center for Jewish Studies
Date and time
Monday, October 18, 2021 · 5:30 - 6:30pm EDT
About this event
A Curious Daughter: The Excess of Reading and Desire in Karl Emil Franzos's "The Shylock of Barnow" (1877)
From Yiddish theater of the late 18th century to Sholem Aleichem's Tevye stories to Deborah Feldman's Unorthodox, Jewish daughters leaving the fold are often at the center of Jewish literature negotiating the tensions between religious tradition and modernity. This project considers the figure of the rebellious Jewish daughter in modern European Jewish literature, focusing on German Jewish and Yiddish works, and identifies a dual, interrelated fixation with both her romantic and intellectual desire. The talk examines the roles of reading and desire in one case study, "The Shylock of Barnow" by Galician author Karl Emil Franzos (1847–1904). In this text, secular literature is both a gateway toward the daughter's emancipation and a means of undermining her pursuits. The notion of partial Bildung and unrestrained reading mark an anxiety toward the attainment of bourgeois respectability and a German cultural ideal.
Lea H. Greenberg is a Visiting Assistant Professor of German and European Studies at Knox College in Galesburg, IL. She received her Ph.D. in 2021 from the Carolina-Duke Graduate Program in German Studies.
This event will be recorded, and by joining in our session you are consenting to be recorded. The recording will be made available on our web and social media sites.
About the organizer
Established in 2003, the Carolina Center for Jewish Studies at the University of North Carolina at Chapel Hill unites the general public, students and faculty from various academic disciplines who share a common passion for a deeper understanding of Jewish history, culture and thought.