A Culinary Tribute to Jack Kerouac's "On The Road"
Location
Louro
142 W 10th St
New York, NY 10014
Description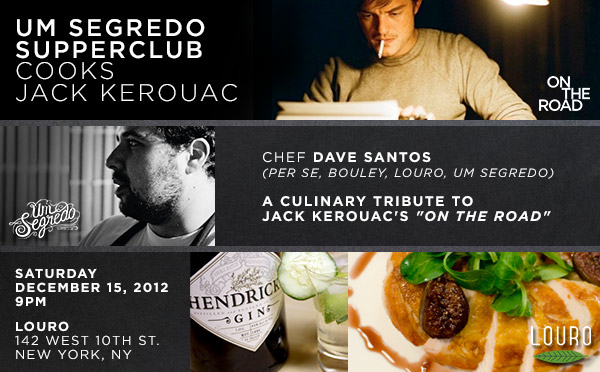 BOND Strategy and Influence and IFC Films/Sundance Selects are pleased to invite you to an exclusive Jack Kerouac-inspired cocktail and five-course tasting dinner this Saturday, December 15th at 9pm at the newly opened West Village restaurant, Louro.
Chef Dave Santos (Louro, Bouley, Per Se, and founder of Um Segredo Supper Club's underground Author Dinner series) has crafted an edible journey through Kerouac's America, featuring a mouthwatering array of dishes influenced by the events, characters, and locations of the novel and upcoming film, On the Road.
Tasting Menu & Artisanal Cocktails
A five-course tasting menu & three unique Kerouac-inspired cocktails crafted with Hendrick's Gin.
--
Crab Louis, pacific dungeness crab, cioppino vinaigrette, crisp sourdough
Inspired by San Francisco
"I smelled all the food of San Francisco. There were seafood places out there where the buns were hot, and the baskets were good enough to eat too; where the menus themselves were soft with foody esculence as if dipped in hot broths and roasted dry and good enough to eat too. Just show me the bluefish spangle on a seafood menu and I'd eat it; let me smell the drawn butter and lobster claws...that's my ah-dream of San Francisco."
Martini
Hendricks gin, dry vermouth, orange bitters, lemon twist
--
Creole Catfish, hominy grits fritters, house-made tabasco sauce
Inspired by New Orleans
"The air was so sweet in New Orleans it seemed to come in soft bandannas; and you could smell the river and really smell the people, and mud, and molasses, and every kind of tropical exhalation with your nose suddenly removed from the dry ices of a Northern winter. We bounced in our seats."
Ryan's Cup
Hendricks gin, cucumber, lime, salt, pepper, Habanero chili
--
Polish Dumplings, wild mushrooms, caramelized onion consommé
Inspired by the Midwest
"The bus roared through Indiana cornfields that night; the moon illuminated the ghostly gathered husks. I made the acquaintance of a girl and we necked all the way to Indianapolis. She bought my meals; my sandwiches were all gone. In exchange I told her long stories. "
Duck and Foie Gras, Mole sauce, frijoles, spiced honey
Inspired by Mexico
"Shirt-sleeved Mexican cabdrivers and straw-hatted Mexican hipsters sat at stools, devouring messes of tortillas, beans, tacos, whatnot. We had finally found the magic land at the end of the road and we never dreamed the extent of the magic."
Buck Wild
Hendricks, ginger, cinnamon, grapefruit, lime, Angostura bitters
--
Ricotta Fresca Beignets, powered cane sugar, espresso ice cream
Inspired by New York
"Suddenly I found myself on Times Square. I had traveled eight thousand miles around the American continent and I was back on Times Square; seeing with my innocent road-eyes the absolute madness and fantastic hoorair of New York with its millions hustling forever for a buck among themselves, the mad dream.
In the spirit of travel writing, Idlewild Books has provided a $50 gift card for one lucky guest.
We hope to see you there!