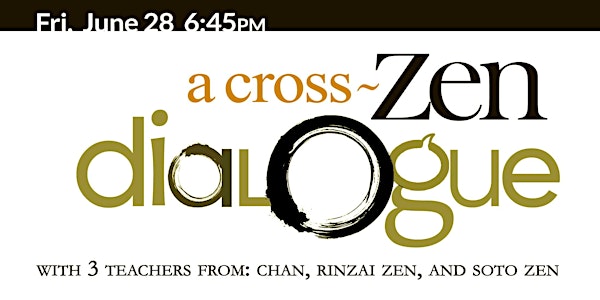 A Cross-Zen Dialogue - with 3 teachers from: Chan, Rinzai Zen & Soto Zen
When and where
Location
Shambhala Meditation Center of Chicago 37 North Carpenter Street Chicago, IL 60607
Description


** Registration is now closed. You may still attend as a walk-in - there is an overflow room, with meditation cushions to sit on, that can accommodate a large number of people. So, we anticipate to be able to fit in everyone. **
Join us for an exciting special event, where we have invited three prominent teachers from different Chan/Zen traditions to share their lineages' teachings, and to have a dialogue with each other and with you!
EVENT DESCRIPTION:
This event will help us learn more about the practice of each lineage, the similarities and differences between the three traditions, and discuss Chan/Zen Buddhism's development and their future in America. We invite you to come and bring your questions for the teachers! And, this event aims to bring members of the different sanghas together so that we may cultivate Dharma friendships with each other, and hopefully even catalyze more future cross-sangha collaborations.
EVENT SCHEDULE:
6:45 PM to 7:15 PM: Check-in & Mingle, Light Vegan Snacks
7:15 PM to 9:15 PM: Cross-Zen Dialogue
9:15 PM to ~9:40 PM: More Mingling and Individual Q&A's
REGISTRATION REQUESTED:
While registration is not mandatory, we do have a limited occupancy. Therefore, please do register to ensure that you have a spot!
DONATION WELCOME: (please also click the "REGISTER" button for option to donate, or email us at: hello@chicagomeditation.org on how to donate with a check)
We offer this event at no-cost so that financial burdens would not prevent anyone from attending. However, if you are able to donate, whether or not you are attending the event, it will greatly help us cover event costs (estimated: $800 to $1,000), including: venue rental, dāna for teachers, travel expenses, refreshments, etc.. Surplus, if any, will go towards supporting the ongoing operations of this event's organizers, CBMG and DDMBA-Chicago, so that we may continue to benefit more people. Suggested donation: $15 per person, but any amount would be greatly appreciated. Donations are tax-deductible to the full extent of the law. Thank you!
PANELISTS: (in alphabetical order of Dharma names)

Teacher, Dharma Drum Mountain Tallahassee Florida (Chinese Chan)
In 1980, Guo Gu began learning meditation from Master Sheng Yen (1931 – 2009), a Chinese Chan master and founder of Dharma Drum Mountain. In 1991, Guo Gu was ordained as a monk and became Master Sheng Yen's first personal attendant, assisting in leading activities in New York, Taiwan, other parts of Asia, and Europe. In 1995, Guo Gu had his first Chan experience and was given permission by Master Sheng Yen to teach Chan independently, and he received several affirmations of his subsequent experiences, including being verified by a Rinzai Zen master in 2007. Guo Gu has led numerous intensive Chan retreats in both the Silent Illumination and Huatou methods. In 2000, Guo Gu left monasticism and re-entered the lay world. In 2008, he received his Ph.D. in Buddhist Studies from Princeton University and began teaching Buddhism and East Asian religions academically as an Assistant Professor at Florida State University. In 2009, he founded Dharma Drum Mountain Tallahassee Florida (aka the Tallahassee Chan Center), and serves as the teacher there. For more information about Guo Gu, please see here.

Abbot, Korinji Rinzai Zen Monastery, Reedsburg, WI (Japanese Rinzai Zen)
Meido studied under three Rinzai Zen masters: Tenzan Toyoda Rokoji, Dogen Hosokawa Roshi, and So'zan Miller Roshi; all in the lineage of Omori Sogen Roshi, a famous 20th Century Rinzai Zen Master who was also renowned as a master of calligraphy and swordsmanship. In 2008 Meido Roshi received inka shomei ("mind seal"), designating him an 86th-generation Zen dharma heir and a 48th-generation holder of the lineage descended from Rinzai Gigen. He has completed the koan practice of his line and is empowered to transmit the full range of Rinzai Zen practice methods. Korinji, a monastic residence in the Rinzai Zen Buddhist tradition and located in Wisconsin, began operations in 2018. Meido serves as the first abbot of this monastery. For more information about Meido Roshi, please see here.

Guiding Dharma Teacher, Ancient Dragon Zen Gate, Chicago, IL (Japanese Soto Zen)
Taigen is a Soto Zen priest and Dharma successor in the lineage of Shunryu Suzuki Roshi. Taigen first studied Buddhist art and culture in Japan in 1970, and began formal zazen and Soto practice in 1975 at the New York Zen Center with Kando Nakajima Roshi. In 1979, he began working full-time for the San Francisco Zen Center, and was ordained in 1986 by Tenshin Reb Anderson Roshi. Taigen practiced and resided for years at San Francisco Zen Center, Tassajara monastery, and Green Gulch Farm Zen Center. He also practiced for two years in Kyoto, Japan, 1990-92, translating Dogen with Rev. Shohaku Okumura, and practicing with several Japanese Soto Zen teachers, including one monastic practice period. Taigen received Dharma Transmission in 2000 from Tenshin Reb Anderson Roshi, and is an authorized Kokusaifukyoshi (Official Foreign Representative) as well as a recognized teacher in the Japanese Soto school. Since 2007, Taigen has served as the Guiding Dharma Teacher for Ancient Dragon Zen Gate in Chicago, working to develop accessible practice and training programs in the Chicago area. He has also long been active in various Engaged Buddhist programs for social justice, peace, and environmental activism. Taigen obtained an East Asian Studies degree and studied Japanese language at Columbia College, and has a Ph.D. from Graduate Theological Union in Berkeley, where he has taught since 1994 (including online from Chicago), along with teaching at various other universities. For more information about Rev. Taigen Leighton, please see here.
---
FAQs:
(1) What are my transportation/parking options for getting to and from the event?
Per Shambhala's website (https://chicago.shambhala.org/sc-locations/main/):
Public Transit (Recommended): The venue is a 7-15 min walk from three CTA train stops: Green/Pink Line – Morgan stop; Blue Line – UIC-Halsted (use Morgan exit) & Grand stops. It is a 15 min walk from Ogilvie Transportation Center and a 20 min walk from Chicago Union Station. See Metrarail.com for commuter train information.
Driving: The venue is conveniently located near the I-90/94 Expressway and is closest to the Madison Exit. Please note that parking may be an issue - please see below.
Street Parking: Close to the venue, all North-South streets are meter-free. But be sure to check street signs as there are a number of loading zones in this area. East-West streets are typically metered; however, as you continue to drive west away from the venue, more streets are meter free.
Parking Lots: There are some lots within walking distance where you can pay for parking. SpotHero, ParkWhiz, or Parqex can be a convenient way to arrange parking in a lot or private space. For a map of nearby parking lots, click here.
(2) How can I contact the organizer with any questions?
Feel free to email hello@chicagomeditation.org with any questions.