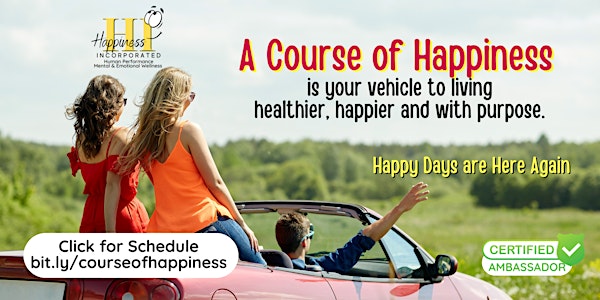 A Course of Happiness – HAPPY Days are Here Again
Expand happiness, build healthier relationships and greater success. Become a catalyst of happiness for others.
About this event
It's time for a new and improved YOU. Do you want to experience a calm like never before? Do you want to be less reactive to situations? Do you want to be more accepting of people's shortcomings? Do you want to put peace out into the world and get peace back?
This five week course will deliver all of the above. Our  10 module Happiness Program is designed to provide critical life skills in training yourself for happiness and to combat the daily negative input life can inflict upon us. Attending the live zoom online each week at the scheduled time is encouraged; however, the sessions will be recorded and available to watch later.  
Happy is an INSIDE job - BE the change you want to see
On a daily basis hatred, meanness, resentment, bitterness, disappointment, jealousy, and so on thrust into our minds, bodies and souls eating away our JOY, kindness, love, and peace. It's time for a movement..... The Happiness Movement.
Our communities, our world, needs YOU, needs ME, needs US to come together and combat the hatred and daily negative BS inflicted upon us and BE the MOVEMENT.... THE HAPPINESS MOVEMENT to protect our own JOY and pay it forward to others.
Join the movement... the Happiness Movement with THE Cynthia Gossman.
Who? Group of people (just like you) who want more happiness and JOY in life. Open to all.
What? Learn proven techniques and skills to cultivate and sustain happiness and joyful living, regardless of the negative BS that bombards you daily.
Why? To strengthen coping mechanisms and FEEL better in life.
BONUS - all participants with perfect attendance become a HAPPINESS AMBASSADOR.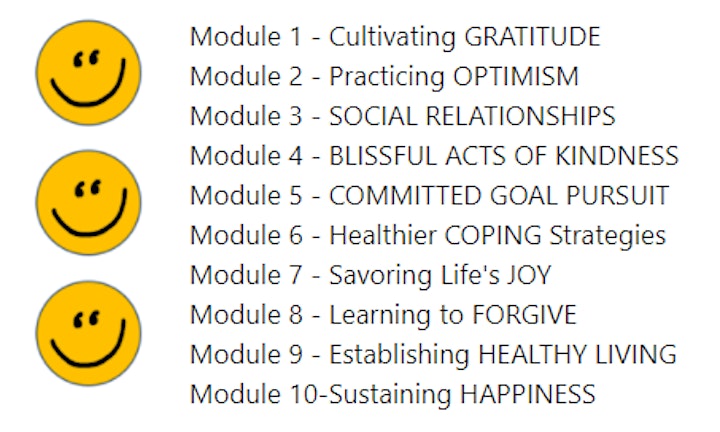 Includes handouts, activities and study guide (value $150 - FREE)
This course repeats every Wednesday for five weeks.
Here are all of the dates:
Modules 1 & 2..................January 18
Modules 3 & 4..................January 25
Modules 5 & 6..................February 1
Modules 7 & 8..................February 8
Modules 9 & 10...............February 15