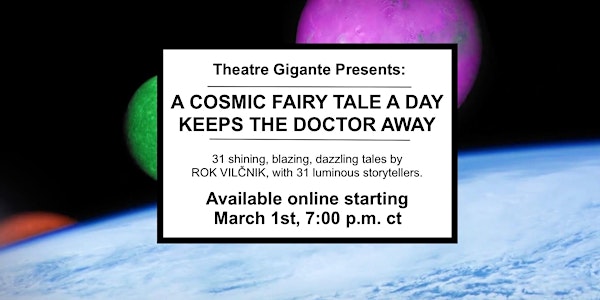 A COSMIC FAIRY TALE A DAY KEEPS THE DOCTOR AWAY
Thirty-one videos of short, uniquely bizarre Fairy Tales by Rok Vilčnik, offering adventures in the Cosmos from the safety of your home.
Refund Policy
Contact the organizer to request a refund.
About this event
A COSMIC FAIRY TALE A DAY KEEPS THE DOCTOR AWAY
Written by Rok Vilčnik
Conceived and Directed by Isabelle Kralj
Visual Art and Production Design by Justin Thomas
Music by Frank Pahl & Little Bang Theory
Production Manager Mark Anderson
Technical Assistants Anna Bundy and Caulden Parkel
Inspired by the quest for staying healthy through the COVID-19 crisis, and the idea of Giovanni Boccaccio's Decameron (tales told by a group of women and men as they sheltered in a secluded villa in order to escape the plague), Theatre Gigante has created the virtual project A COSMIC FAIRY TALE A DAY KEEPS THE DOCTOR AWAY. A month's supply of sparkling fairy tales written by Slovenian playwright Rok Vilčnik, visual artistry and production design by Justin Thomas, with music by Frank Pahl and Little Bang Theory, direction by Isabelle Kralj, and performances by 31 luminous storytellers from Milwaukee to California, from Colorado to Chicago and Boston, and from Taiwan to Italy and France. Thirty-one winking, blinking, curious Fairy Tales in the cosmos, offering uniquely bizarre adventures in search of the earthling heart in all of us.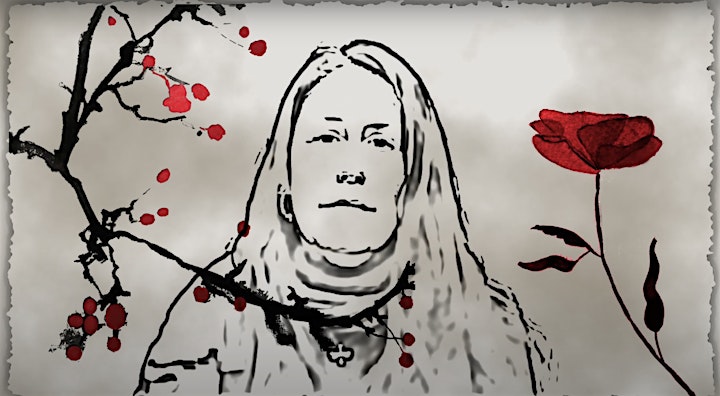 THE STORYTELLERS
Mark Anderson, Sade Ayodele, Kathryn Cesarz, Marissa Clayton, Nathan Danzer, Mohammad ElBsat, Leslie Fitzwater, Tony Flinn, David Flores, Ron Scot Fry, Rose Grizzell, Megan Kaminsky, Hannah Klapperich-Mueller, Posy Knight, Evan Koepnick, Isabelle Kralj, Diane Lane, Jordan Mackin, A.J. Magoon, Selena Milewski, Peter Mulvey, Frank Pahl, Sheri Williams Pannell, Jason Powell, Nate Press, Craig Quintero, Alessandro Renda, Thomas Simpson, Matt Specht, Shawn Smith, Christine Zufferey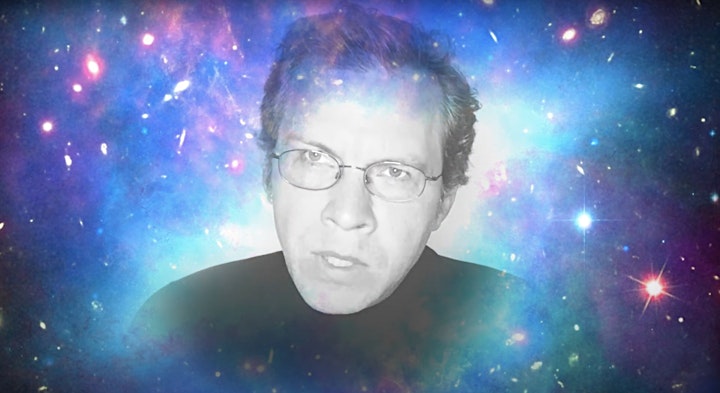 About the Production
The Fairy Tales invoke and address humanity's dreams and aspirations, and some of life's bigger questions. With cleverness and a sense of humor they look to the cosmos to portray our world – what it was, is, and could be. Orbs of various sorts, creatures, ghosts, buildings, beginnings, endings, questions, answers, and then some, are all anthropomorphized in delightful, witty, ways with a deep understanding by the author of what it means to be human. In one tale "The flock of questions was circling around looking for any kind of answers. Lately, the questions have multiplied a lot, yet there were only a small handful of answers available." In another, the largest train in the world takes a man on a journey of his past and into his future. And, in yet another, a poet writes a poem in which we all come together.
A COSMIC FAIRY TALE A DAY KEEPS THE DOCTOR AWAY is just such a poem in a larger sense. In this difficult time of a raging pandemic, through a clever author, an innovative creative team, delightful storytellers, and you, the audience – it is just the right time, and just the right production, for all of us to come together!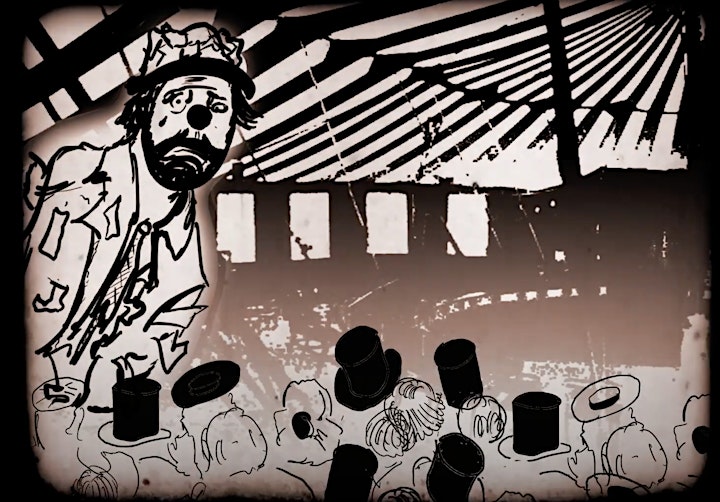 About Access for Audience
The audience will buy a ticket for A COSMIC FAIRY TALE A DAY KEEPS THE DOCTOR AWAY, keep the production for 31 days and watch it at their leisure – one video tale a day for 31 days, all at once, or in any amounts they wish. It will be available for purchase during the entire month of March.
Available beginning March 1, 2021 at 7:00 p.m. (ct).
Payment handled through PayPal. Please note: you can purchase a ticket without creating a PayPal account
Please note that you may need to allow "pop-up" windows when using the PayPal site.
If you experience continued difficulty when purchasing your ticket, please contact Theatre Gigante, at gigante@theatregigante.org