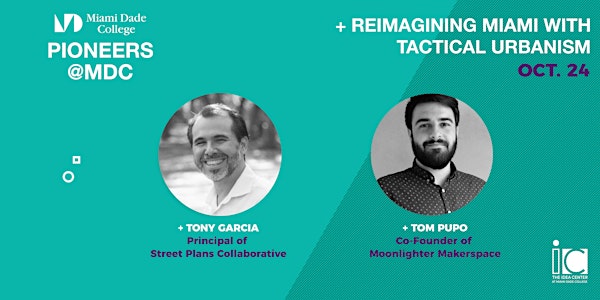 A Conversation with Tony Garcia and Tom Pupo at Pioneers at MDC
Location
The Idea Center
315 Northeast 2nd Avenue
Room 8525
Miami, FL 33132
Join us for a conversation with Tony Garcia and Tom Pupo on how we can create better public spaces.
About this event
Let's talk about how Tactical Urbanism can help us shape and reimagine our beautiful Miami.
MEET THE SPEAKERS
Tony Garcia is a Principal of Street Plans Collaborative and coauthor of the globally acclaimed series Tactical Urbanism: Short-Term Action, Long-Term Change, co-author of Tactical Urbanism, published by Island Press in March 2015, and together with Mike Lydon is the recipient of the 2017 Seaside Prize. Tony was also awarded with the 2017-2018 CINTAS Foundation Fellowship for Architecture & Design. With over 15 years experience, Tony is a leader in the field of urban planning, and balances day-to-day management of Street Plans Collaborative with writing, speaking, and advocating for great streets and public spaces.
He lectures and leads workshops on the topics of placemaking, tactical urbanism, and street design. He is a former part-time faculty member at the University of Miami School of Architecture, and is the past Chairman of the Green Mobility Network, the largest bicycle pedestrian advocacy organization in South Florida. He co-founded the Ludlam Trail project, which will result in the addition of over 50 acres of new park space in Miami-Dade County.
Tom Pupo is the Co-Founder of Moonlighter Maker Space, he is very involved in the makers community and the urban public space development. Tom has also served as professor and faculty fellow at the FIU Honors College where he taught a course on Maker Cities - getting students from various disciplines to research, prototype, and fabricate urban installations that engages the community in a discourse about how to improve the urban fabric with new technologies.
Moonlighter has worked on various urban interventions - Parklette Project for Park(ing) day Miami, where a temporary public space was designed and built on two parking spaces for a day. They also contributed with design and fabrication of many of the built elements for Biscayne Green, a 20-day pop-up public park on Biscayne Boulevard in collaboration with The StreetPlans Collaborative and the Downtown Development Authority. They were also invited to create elements for a research study on waterfront civic space in collaboration with Happy City, The Street Plans Collaborative and The City of West Palm Beach.