A Conversation with the Atlanta Fed President & Tour of the Federal Reserve
Sales Have Ended
Ticket sales have ended
Thank you for registering. We look forward to seeing you at the event!
Sales Have Ended
Ticket sales have ended
Thank you for registering. We look forward to seeing you at the event!
Description
THIS EVENT IS SOLD OUT!


A Conversation with the Atlanta Fed President & Tour of the Federal Reserve

Featuring Dr. Raphael Bostic, President & Chief Executive Officer of the Federal Reserve Bank of Atlanta
Sponsored by:

Please join the Economic Roundtable of Jacksonville for a luncheon at the Federal Reserve Bank of Atlanta - Jacksonville Branch, located at 800 Water Street in downtown Jacksonville. The luncheon will begin with networking at 11:30 a.m., and will adjourn following the presentation. For those interested, we will offer a 20-minute tour of the Cash operation after the event.
This is a unique opportunity to experience a live presentation by Dr. Raphael Bostic, President & CEO of the Federal Reserve Bank of Atlanta and an interactive discussion. The event includes lunch and a guided tour of The Federal Reserve. Register early! Limited seating for one of our most popular events!


**Please see special instructions below about visiting the Federal Reserve, parking and identification requirements.**
Ticket Prices
Single ticket: $30
Tables (of 8): $240
A portion of the ticket proceeds will go to providing scholarships to business students at Jacksonville University, University of North Florida and Florida State College at Jacksonville.
If paying by check, please make checks payable to:
ERT
c/o Jacksonville University
2800 University Blvd. N.
Jacksonville, FL 32211
---
Speaker Bio
Dr. Raphael Bostic
Federal Reserve Bank of Atlanta
President & Chief Executive Officer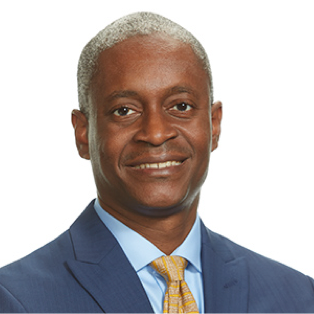 Dr. Raphael W. Bostic took office June 5, 2017, as the 15th president and chief executive officer of the Federal Reserve Bank of Atlanta. He is responsible for all the Bank's activities, including monetary policy, bank supervision and regulation, and payment services. He is a participant on the Federal Open Market Committee, the monetary policymaking body of the Federal Reserve System.
From 2012 to 2017, Bostic was the Judith and John Bedrosian Chair in Governance and the Public Enterprise at the Sol Price School of Public Policy at the University of Southern California (USC).
He arrived at USC in 2001 and served as a professor in the School of Policy, Planning, and Development. His research has spanned many fields, including home ownership, housing finance, neighborhood change, and the role of institutions in shaping policy effectiveness. He was director of USC's master of real estate development degree program and was the founding director of the Casden Real Estate Economics Forecast.
Bostic also served USC's Lusk Center for Real Estate as the interim associate director from 2007 to 2009 and as the interim director from 2015 to 2016. From 2016 to 2017, he was the chair of the center's Governance, Management, and Policy Process department.
From 2009 to 2012, Bostic was the assistant secretary for policy development and research at the U.S. Department of Housing and Urban Development (HUD). In that role, he was a principal adviser to the secretary on policy and research, helping the secretary and other principal staff make informed decisions on HUD policies and programs, as well as on budget and legislative proposals.
Bostic worked at the Federal Reserve Board of Governors from 1995 to 2001, first as an economist and then a senior economist in the monetary and financial studies section, where his work on the Community Reinvestment Act earned him a special achievement award. He served as special assistant to HUD's assistant secretary of policy development and research in 1999. He was also a professional lecturer at American University in 1998.
Bostic was born in New York City in 1966 and grew up in Delran, New Jersey. He graduated from Harvard University in 1987 with a combined major in economics and psychology. He earned his doctorate in economics from Stanford University in 1995.
He has previously served on many boards and advisory committees, including the California Community Reinvestment Corporation, Abode Communities, NeighborWorks, the National Community Stabilization Trust, the Urban Land Institute, the Consumer Financial Protection Bureau, the American Real Estate and Urban Economics Association, the National Economic Association, and Freddie Mac.
The Federal Reserve Bank of Atlanta serves the Sixth Federal Reserve District, which covers Alabama, Florida, and Georgia, and parts of Louisiana, Mississippi, and Tennessee. The Bank has branches in Birmingham, Jacksonville, Miami, Nashville, and New Orleans.
---


IMPORTANT INSTRUCTIONS FOR VISITORS TO THE FEDERAL RESERVE:
Weapons are prohibited on Bank property, to include the parking lot, regardless if you have a concealed weapons permit.
Please note that:
All vehicles will be inspected/searched
Cameras are prohibited.
Other items may be restricted at the discretion of the Federal Reserve Law Enforcement Unit.
Government issued photo identification (e.g., driver's license or passport) will be required for entry.
FEDERAL RESERVE SECURITY PROCEDURES
When you arrive, identify yourself as an attendee of the Economic Roundtable of Jacksonville. You will be directed to the building entrance where your belongings will go through an x-ray machine and you will walk through a metal detector. Both you and your belongings are subject to search at the discretion of the Federal Reserve Law Enforcement Unit.
PARKING
Parking is on-site. When you arrive at the Bank, please proceed through the gate at the east end of the building (the gate to the left of the front of the building). Your vehicle will be subject to inspection. A Law Enforcement Officer will direct you to the visitor parking area.