Description
Join us for a conversation with Silvina Moschini at our Pioneers@MDC speaker series.
Meet the speaker
Silvina Moschini is the Co-founder & President of TransparentBusiness, as well as the Founder & CEO of SheWorks! Widely known by technology media as @Miss_Internet, she is an award-winning technology entrepreneur, CNN Español industry expert, and an international speaker.
As an entrepreneur, she took her passion for disruptive technologies to become the co-founder of TransparentBusiness - a web-based solution for building talent marketplaces and managing remote teams and freelancers. She later leveraged TransparentBusiness technology and became the Founder and CEO of SheWorks! and Yandiki, online platforms that help companies scale exponentially by accessing vetted talent on demand and helping them monitor, manage, rate and pay their virtual teams.
SheWorks!
Via her social impact startup called SheWorks!, Silvina partners with leading companies such Google, SAP, Cisco, Microso, and Facebook to provide online education and flexible job opportunities to empower women and help them achieve financial independence via remote-based flexible work. She also joined forces with EY to take the initiative to global scale and drive awareness on the benefits of the Gig economy not only for economic development for emerging markets but also to bridge the gender unemployment gap.
Background
Silvina's background includes senior corporate executive roles at Visa International and Compaq Computer Corpora on as well as entrepreneurial experience. She was part of the leadership team of early internet start-up Patagon that excited in 2000 for $785 million. Silvina is an Endeavor.org Entrepreneur, serves as a mentor for Google Launchpad, is on the Advisory Council of Adver sing Week Latino America and is on the board of various organizations including FLOR Foundation and Dalia Empower.
Moderator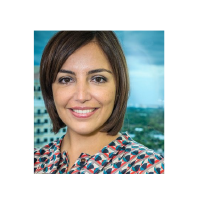 Laura is the Managing Director of Endeavor Miami, whose mission is to select, mentor and accelerate the growth of high-impact entrepreneurs in South Florida. Endeavor Miami currently supports 22 companies. Prior to joining Endeavor, Laura was at Visa where she held several roles, including product development and management in the B2B sector, as well as negotiating and structuring new business opportunities, and monitoring strategic investments.
Laura has a strong M&A and private equity background. Prior to Visa, she was Head of Investor Relations and a Senior Financial Analyst, M&A for Panamco, a US$3.6 billion Coca-Cola bottling Company sold to FEMSA and an Analyst at Bank of America Equity Partners.
Laura has an M.B.A. from Harvard Business School and a B.S. in Economics from I.T.A.M. in Mexico City. Laura serves on the Board of Advisors of Miami Dade College´s Idea Center. As a current Board Member of the HBS Club of South Florida, she has helped raise funds for scholarships for South Florida non-profit leaders to attend an executive program in HBS for the past 11 years.