A Conversation With PMC Riders Troy Brown and Tim Johnson

Wednesday, October 17, 2018 from 6:30 PM to 9:00 PM (EDT)
Event Details
A Conversation With PMC Riders Troy Brown and Tim Johnson Moderated by Lisa Hughes and Billy Starr
What It Takes to Be a Pro
Join us at Towne Stove & Spirits for a conversation with PMC riders Troy Brown, former New England Patriot and 3-time Super Bowl champion, and Tim Johnson, professional cyclocross champion. The discussion "What It Takes to Be a Pro" will be moderated by Lisa Hughes, WBZ-TV news anchor and 8-year PMC rider, and Billy Starr, PMC founder and executive director. 
The event is from 6:30 to 9 pm on Wednesday, October 17. Tickets to the event include two drink tickets (featuring Tito's Handmade Vodka and Harpoon), hors-d'oeuvres, and the conversation. The event is 21+.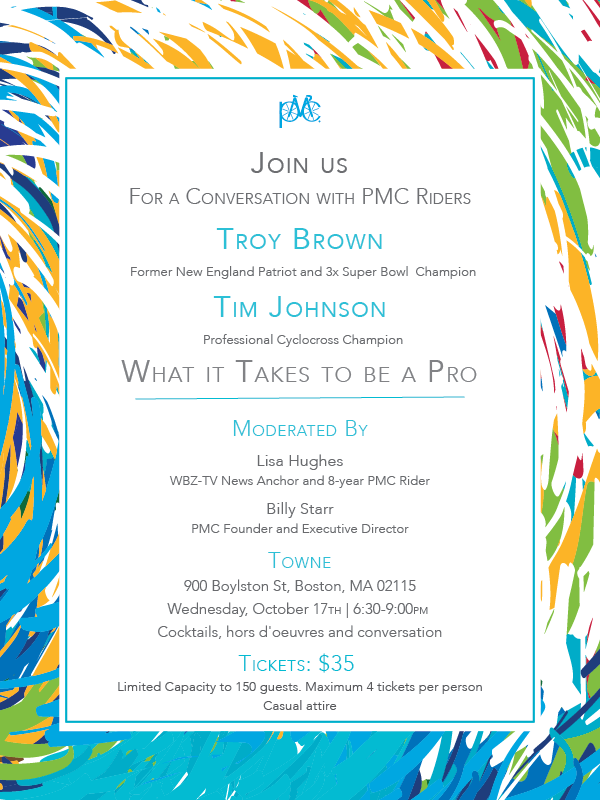 ---
About PMC Riders Troy Brown and Tim Johnson
Troy Brown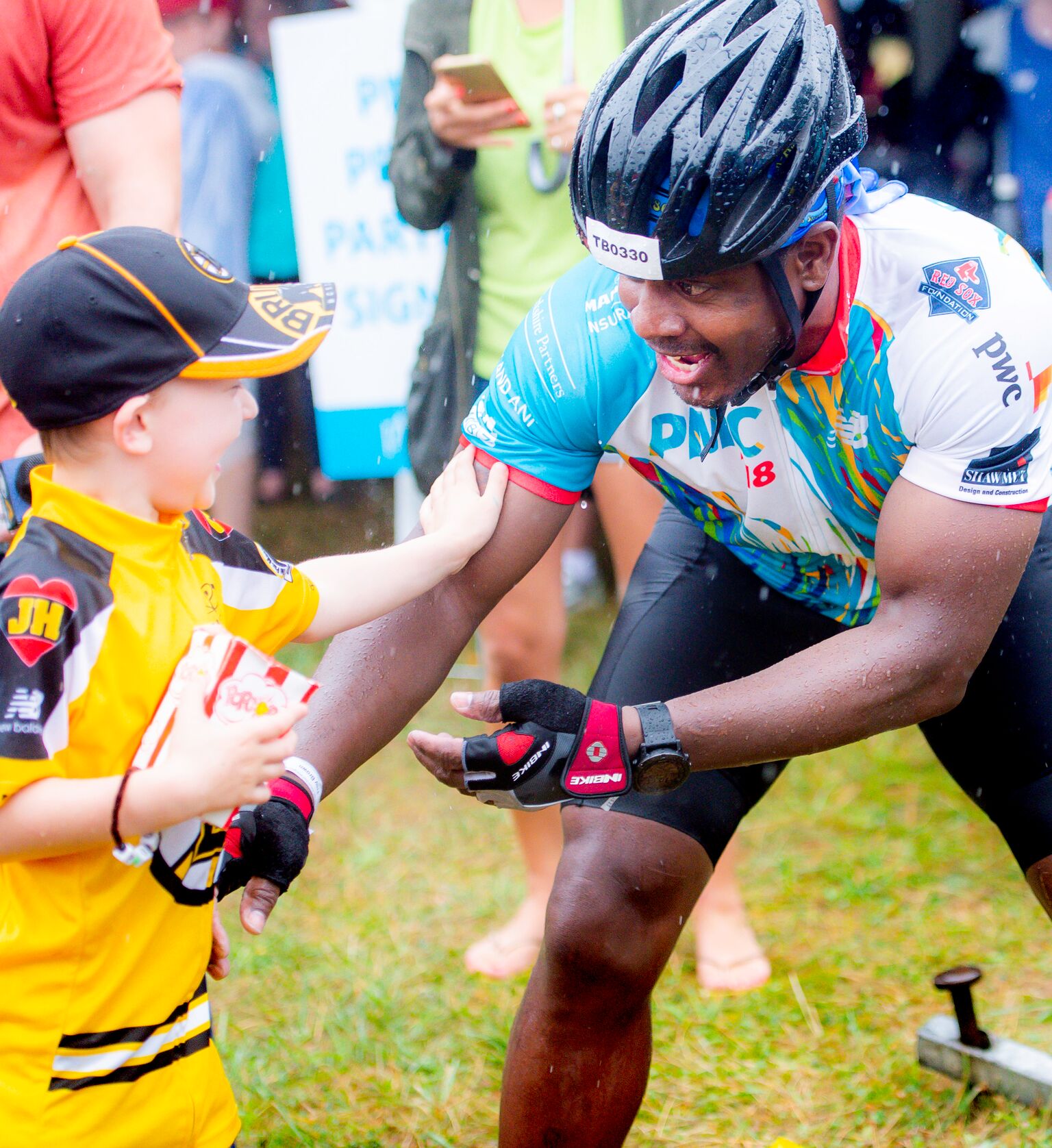 Troy Brown is a former New England Patriot and 3x Super Bowl Champion. Brown was born July 2nd, 1971 in Barnwell, South Carolina, and attended Blackville-Hilda High School where he won a state championship as a kick returner and receiver. During his college career at Marshall University,  he filled the wide-receiver position and set an NCAA record for kickoff returns. In 1992, Brown helped lead Marshall to their first-ever national championship, intercepting Youngstown State's Hail Mary pass in the last seconds of the game to secure a Thundering Herd victory.
After attending Marshall University, Brown was drafted by the New England Patriots in the 8th round of the 1993 NFL Draft, where he remained for the entirety of his 15-year career. In 2001, Brown led the team to their first Super Bowl championship alongside quarterback Tom Brady, and assisted the Patriots in earning two more championships in 2003 and 2004. Brown is tied for the franchise record with three punt returns for touchdowns and breaking the franchise record for yards per punt return average. Over his career, Brown demonstrated incredible versatility, primarily filling the wide receiver position, but also contributing as kick returner, cornerback and even lining up as an emergency quarterback in the 2006 preseason.
Brown is the second-longest playing Patriot in history, retiring from football after 15 seasons with the team in 2008. He ranks second in franchise history for both receptions (557) and receiving yards (6,366). In 2010, Brown was elected into the College Football Hall of Fame, and has since been honored by being inducted into the New England Patriot Hall of Fame in 2012, as well as the South Carolina Athletic Hall of Fame in 2016.
In his retirement, Brown has continued his legacy by giving back to those in need, earning The Ron Burton Community Service Award in 2004 for his commitment to helping others. Brown recently penned a book about his experience on the legendary New England team, entitled Patriot Pride: My Life in the New England Dynasty (2015). He currently lives in Huntington, WV and has three sons, Sir'mon, Saanjay, and Skylar.
Tim Johnson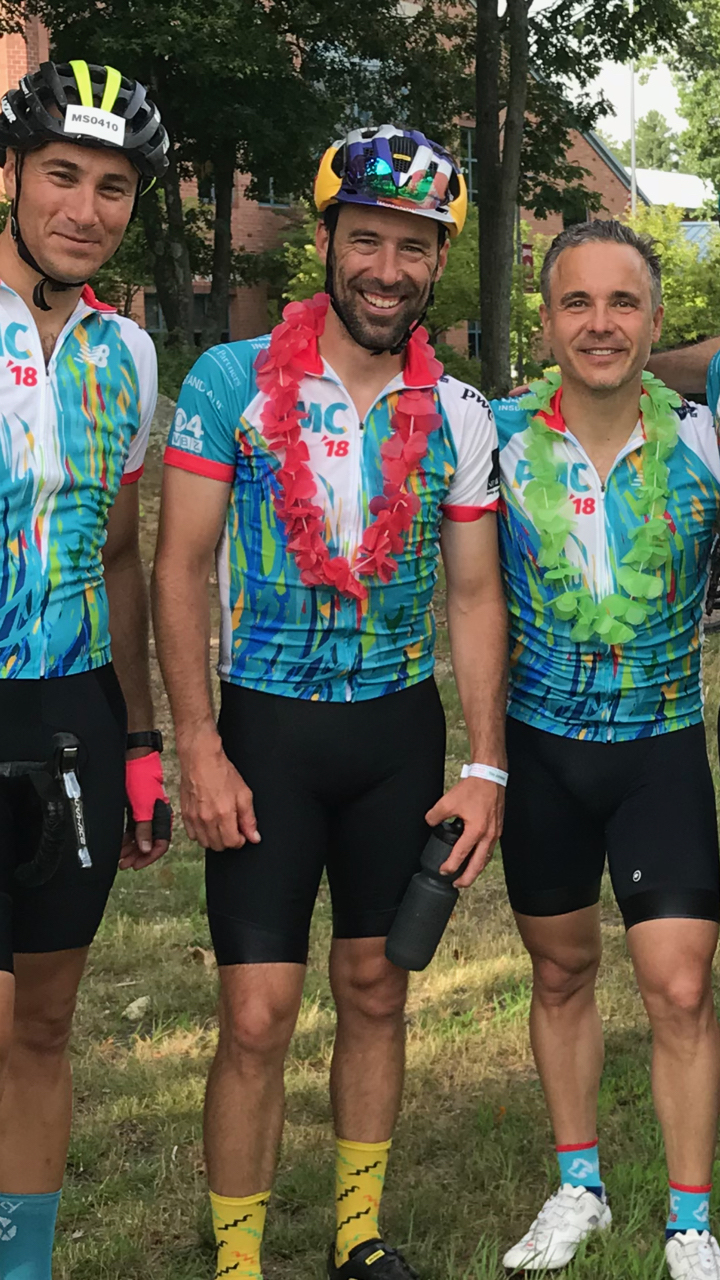 Tim Johnson, a six-time U.S. National Cyclocross Champion, is one of the most decorated American cyclocross racers of all time. He retired from the sport in 2015, having competed for Team USA in 13 UCI Cyclocross World Championships, earning a bronze in the U23 event in 1999 and twice racing in the UCI Road World Championships during his 15-year professional career. Today, Tim is the Director of Development for the USA Cycling Foundation and remains active in bicycle advocacy efforts, supporting PeopleForBikes nationally and serving on the board of MassBike, the state of Massachusetts' premier cycling advocacy organization. He also rides in the Pan-Mass Challenge, the nation's single most successful athletic fundraiser.
When & Where

Towne Stove and Spirits
900 Boylston Street
Boston, MA 02115


Wednesday, October 17, 2018 from 6:30 PM to 9:00 PM (EDT)
Add to my calendar
Organizer
Closer By The Mile
The Pan-Mass Challenge, presented by the Boston Red Sox Foundation and New Balance, is the nation's original fundraising bike-a-thon, and today raises more money for charity than any other athletic fundraising event in the country. A model of fundraising efficiency, since 2007 the PMC has donated 100% of every rider-raised dollar directly to cancer research and treatment at Dana-Farber Cancer Institute (DFCI).
The PMC is so well-known in cycling and fundraising circles, that each year people travel from around the world to participate. Thousands of riders and volunteers have lost loved ones to the disease, still more ride in honor of those in treatment, and over 800 PMC riders and volunteers are cancer survivors. The camaraderie shared by riders, volunteers, and supporters is so strong that even the doctors at DFCI join their patients as teammates, riding toward a unified goal.
The PMC's programs - PMC Winter Cycle and PMC Kids Rides are "spokes in the wheel" of the PMC's annual fundraising campaign. The PMC Winter Cycle is a spin event held at Fenway Park on January 26, 2019. The PMC Kids Rides program holds mini bike-a-thons for kids ages 2-15 across New England and New York. Like the PMC, 100% of all rider-raised dollars goes directly to DFCI.
Since its 1980 inception, the PMC has contributed $654 million to lifesaving cancer research and treatment at DFCI.
The 2019 PMC
On August 3 & 4, 2019, 6,000+ cyclists will ride one of 12 routes, logging between 25 and 192 miles over one or two days, through 46 Massachusetts cities and towns. Their collective goal is to continue to grow the organization's 40-year fundraising total for Dana-Farber Cancer Institute. The PMC's 2018 gift to Dana-Farber is $56 million.
The Organization
The PMC is a model of efficiency for all non-profit events. The professional team is made up of nine full time and 1 part time staff; a 10-person volunteer coordinating staff; a 14-person Board of Trustees; 6,000+ cyclists; 4,000 volunteers; 46 communities; 200 companies, which donate $4 million worth of merchandise and services; and more than 250,000 individuals who sponsor PMC cyclists.