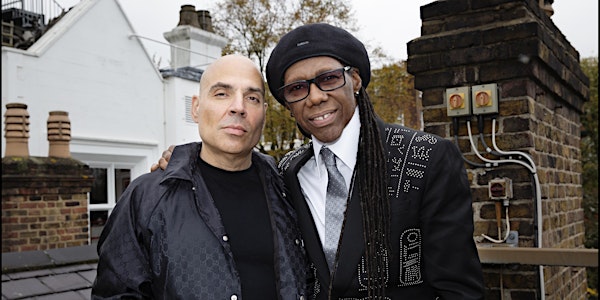 A Conversation With Nile Rodgers And Merck Mercuriadis
Presented by American Express
Location
GRAMMY Museum
800 W Olympic Blvd A245
Los Angeles, CA 90015
Located on the second floor of the Museum, the Clive Davis Theater is an intimate, state-of-the-art 200-seat theater.
About this event
The GRAMMY Museum is thrilled to host legendary musician Nile Rodgers and acclaimed music executive and manager, Merck Mercuriadis, to the Clive Davis Theater for a special discussion, moderated by Scott Goldman.
Among music legends, Nile Rodgers is truly exceptional. He amplifies his legacy as a multiple GRAMMY-winning composer, producer, arranger, and guitarist by constantly traversing new musical terrain and successfully expanding the boundaries of popular music. As the co-founder of CHIC and the newly elected Chairman of the Songwriters Hall of Fame, Rodgers pioneered a musical language that generated chart-topping hits like "Le Freak," (the biggest selling single in the history of Atlantic Records!) and sparked the advent of hip-hop with "Good Times." Most recently, he was appointed as the first ever Chief Creative Advisor for the legendary Abbey Road Studios to cap off a year that has included "festival best" performances at both Glastonbury and Coachella. His work in the CHIC Organization and his productions for artists like David Bowie, Diana Ross, and Madonna have sold over 500 million albums and 75 million singles worldwide, while his innovative, trendsetting collaborations with Daft Punk, Avicii, Sigala, Disclosure, and Sam Smith reflect the vanguard of contemporary music. Nile Rodgers & CHIC recently released their first new studio album, "It's About Time" in over 26 years to critical acclaim and a Top 10 position in the UK album charts.
Merck Mercuriadis is a Canadian-American music executive and music manager. He is the current CEO, Founder, and managing partner of Hipgnosis Songs Ltd, an artist management firm, publisher, and record label based in London and Los Angeles. Mercuriadis is currently the manager of music legend Nile Rodgers and the former manager of several notable rock and pop bands and musicians including Sir Elton John, Guns'N'Roses, Iron Maiden, Morrissey, Pet Shop Boys, Macy Gray, Mary J. Blige, Joss Stone, and Jane's Addiction, to name a few. Most recently, Mercuriadis is the Creator and Founder of the Hipgnosis Songs Fund, LTD, which has raised over $300 million in investment Capitol and has acquired hit songs and copyrights, including Beyonce's 'Single Ladies (Put A Ring On It)', Rihanna's 'Umbrella' Kanye West's 'All Of The Lights', Justin Bieber's 'Baby', and Jay Z's 'Holy Grail' featuring Justin Timberlake, among other songs. Nile Rodgers is a co-founder of the Fund and sits on the Advisory Board.
Member Check - In: 6:30pm
Nonmember Check - In / Doors: 7pm
Show Time: 7:30pm
TICKET POLICY
The holder of this ticket is granted admission to the indicated facility for the purpose of viewing the specified event. This ticket is for use by the holder only and the holder is bound by this policy. This ticket is not transferable and may not be sold, otherwise conveyed or used for any other purpose, including promotion or commercial, without the prior written consent of the GRAMMY Museum Foundation, Inc. ("GMF"). If this ticket is sold, otherwise conveyed or used in violation of this policy, it will be deemed revoked and void, and its holder deemed a trespasser at all GMF events. This ticket is a revocable license and admission may be refused by refunding the face amount of the ticket or ejection may occur for failure to comply with any facility rule. The holder agrees not to transmit or aid in transmitting any description, picture, recording or reproduction of the event. The holder acknowledges that the event may be broadcast or otherwise publicized or promoted, and hereby grants permission to utilize the holder's image incidental to any live or recorded video display or other transmission, reproduction, promotion or marketing of the event. It is unlawful to reproduce this ticket in any form. The Holder assumes all risks incidental to the event, whether occurring prior to, during or after the event, and releases the facility, management, all participants and each of their affiliates, employees, officers, directors, members, partners, owners, managers, sponsors, contractors and agents from any loss, damage or expense resulting from any such risk. GMF reserves all legal rights and remedies. Save money on ticketing fees next time by becoming a GRAMMY Museum member! Click here for more info.
American Express® Card Members can purchase tickets from Thu 12/13 10:30AM through Thu 12/20 11AM. During the specified sales period, tickets are available exclusively to all American Express® Card Members. Tickets must be purchased with an American Express Card. Standard service charges apply. Offer is subject to availability. Not all seats are available and blackout dates apply. All sales final. No refunds. No exchanges. Offer may be changed or revoked at any time at the sole discretion of American Express. Some events may not be accessible to Card Members with disabilities.
EVENT TIME & DATE SUBJECT TO CHANGE