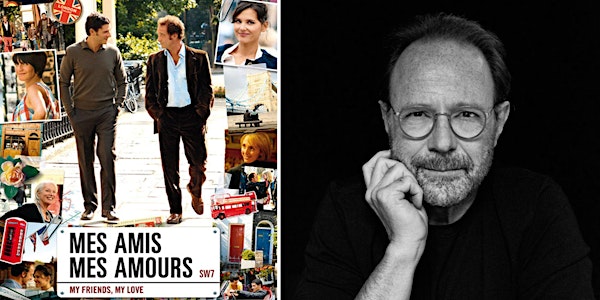 A Conversation with Marc Levy
A Conversation with Marc Levy at La Maison Française
When and where
Location
La Maison Française Embassy of France 4101 Reservoir Rd., NW Washington, DC 20007
Refund Policy
Contact the organizer to request a refund.
About this event
In partnership with French bookstore Bonjour Books DC, Villa Albertine is delighted to host a conversation with worldwide renowned author Marc Levy on Nov 17, where he will discuss his writer's path and his commitment as Red Cross "Croix Rouge" Ambassador.
7:00 pm - Screening of "Mes amis, Mes amours", adapted from Marc Levy's eponymous book and directed by Lorraine Lévy, France, 2008.
8:40 pm - Discussion with Marc Levy, moderated by Carole Geneix, Director of Teaching and Learning at Washington International School.
9:30 pm - Signing session around a drink at the French Embassy. Marc Levy's books will be available for purchase. Many may also be purchased at Bonjour Books DC prior to the event.
______
"Mes Amis, Mes Amours", directed by Lorraine Lévy , France, 2008, 99 mins
"Two divorced fathers Mathias and Antoine, decide to raise their children together in London. Their lives consist of Sophie the pretty florist secretly in love with Antoine, Yvonne who runs the 'bistrot français' and has a very maternal outlook on life and Mac Enzie, the boss of Antoine's agency who is completley in love with Yvonne despite the big age difference."
Marc Levy
When Marc Levy was 18 years old, he joined the Red Cross. After six years, he left Paris for California, to start a company specializing in computer graphics. Nine years later, on returning to France, he co-founded and led an architecture firm.
In January 2000, If Only It Were True, Marc Levy's debut novel, a story he had written for his son Louis, was published by Éditions Robert Laffont. Shortly before the novel's release, Steven Spielberg (DreamWorks) acquired the film rights. The adaptation became Just Like Heaven, starring Reese Witherspoon and Mark Ruffalo, and it topped the US cinema box office upon its release in 2005.
Since If Only It Were True Marc Levy has written 23 novels. His novels have sold over 50 million copies and have been translated into 50 languages. His forthcoming novel When Life Lights Up will be published in France on the 22nd November 2022.
Marc Levy also writes children's books, graphic novels, and songs, including one for Johnny Hallyday. The TV and film adaptations of his novels include If Only It Were True, Mes Amis, Mes Amours, and, most recently All Those Things We Never Said, with Jean Reno in the leading role (Canal Plus/StarzPlay).
Marc Levy has several other films and TV projects in development: PS from Paris, The Shadow Thief, A Woman Like Her and Replay, as well as the It Happened at Night series, with the award-winning filmmaker Costa-Gavras.
Carole Geneix
Carole Geneix is a French-American educator and writer. She is currently Director of Teaching & Learning at Washington International School (WIS), a dual-language International Baccalaureate independent school located in the heart of DC, where she runs the curriculum and professional development programs. Before that, she taught French language and literature at WIS, in France, South Korea and Russia.
Literature is her passion and she is a published author in France at Éditions Rivages, a publisher specializing in crime novels and foreign literature. Her first crime novel, La Mille et Deuxième Nuit, was published in France in 2018 and translated in Spanish in 2019 by Ediciones Siruela. Her second novel, Manhattan Palace, will come out in May 2023. She is currently working on her third novel, a mystery that takes place in Dewey Beach, Delaware.
She holds a master's degree in French literature from University of Rennes II and an M.B.A. from Sorbonne University.
When she does not work or write, she likes to read, cook and watch true crime series. She lives with her family in Kensington, Maryland.
La Maison Française at the French Embassy
Doors will open at 6:30 pm and close at 7:00 pm. Due to strict security measures, please allow extra time for security screening. Registration and Valid ID are required.