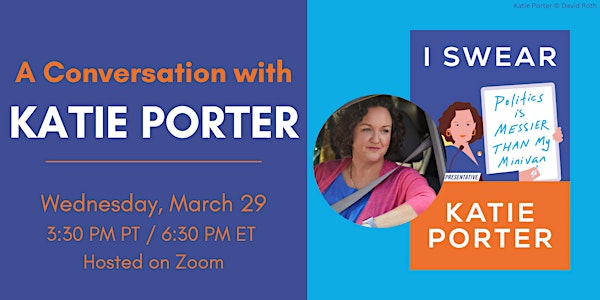 A Conversation with Katie Porter
Join Random House Group and Kepler's Books for a virtual book event dedicated to I SWEAR: POLITICS IS MESSIER THAN MY MINIVAN
Date and time
Wednesday, March 29 · 3:30 - 4:30pm PDT
About this event
Representative Katie Porter has written an honest, inspiring, and laugh-out-loud funny memoir about re-energizing our politics and standing up to corporate America—while carting three kids around in a minivan. In this timely book, she shares a down-to-earth exploration of what it's really like to serve in Congress, particularly as a single mom. Katie offers Americans a clear picture of what their elected leaders are doing—and how they're doing it—exposing the gaps between politicians' press conferences and real people's lives.
Join us on March 29 at 3:30 p.m. PT (6:30 p.m. ET) for a virtual book event dedicated to I Swear: Politics Is Messier Than My Minivan by Katie Porter. Joined by her beloved sister, Dr. Emily Porter, as moderator, Katie will be giving an exclusive reading and taking questions from attendees.
To reserve your spot, simply preorder your copy of I Swear: Politics Is Messier Than My Minivan and enter the receipt order number when registering for your ticket. If you haven't preordered your book yet, you can purchase it while you register, courtesy of our independent bookstore partner Kepler's Books (U.S. mailing addresses only). A limited number of signed bookplates are available, so be sure to buy your copy through Kepler's now! We look forward to having you join us for this very special evening.
Register to save your spot today!
**This is a virtual event that will be hosted on Zoom - you will need access to a computer or other device capable of sufficiently accessing the Internet. If you have not used Zoom before, you may consider referencing Getting Started with Zoom.**
By registering for the event you agree to be automatically signed up for the Random House Events email newsletters. (Privacy Policy).
Frequently asked questions
I'm unable to join live. Will the event be recorded?
Will I be able to participate during the event?
When can I expect my book to arrive?
What is your refund policy?
About the organizer
Founded in 1925, Random House is home to the world's most acclaimed storytellers, thought leaders and innovators. Our Random House special events program creates one-of-a-kind experiences, connecting readers with authors and readers with readers.