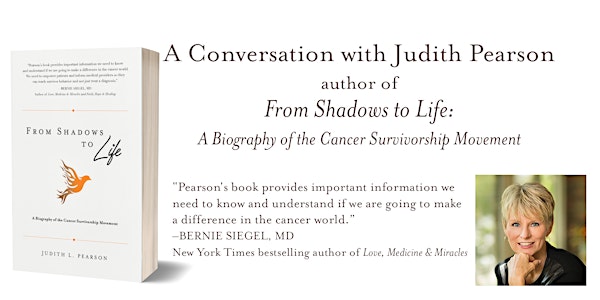 A Conversation with Judy Pearson, author of FROM SHADOWS TO LIFE
Bring your colleagues and friends together for the conversation!
About this event
Timed to the 50th anniversary year of "the war on cancer," From Shadows to Life is a must-read for anyone. Part medical history, part inspirational biography, this is the story of a social movement that continues to improve life for millions.
Reading the book in advance is not required to enjoy this event. But you can order it on Amazon HERE.
"After reading Emperor of All Maladies, I was left thinking, 'But what about PEOPLE who actually had cancer?' This is that book. While Emperor was about cancer and science, this book is about cancer and PEOPLE, and for me that is more interesting."
– BRAD ZEBRACK, PhD, MSW, MPH, Professor, University of Michigan School of Social Work